PR 101: The Full Course
March 14, 2016 @ 8:00 am

-

5:00 pm
Event Navigation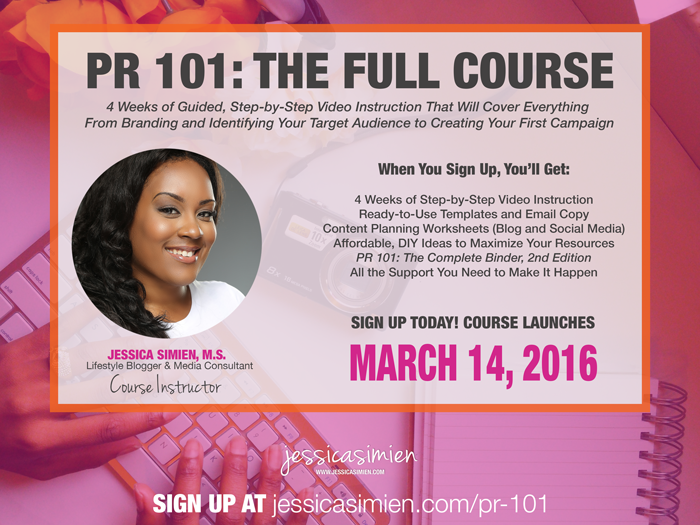 Lifestyle Blogger & Media Consultant
Jessica Simien presents
PR 101: THE FULL COURSE
Everyone needs PR but not everyone has it. Some can't afford it, some don't know that they need it and some don't even know what it is and how it works. That's where PR 101: The Full Course comes in.
PR (short for public relations) is the most misunderstood of all promotional tools and in this course, I break it down completely for you. It doesn't have to be expensive and it getting started with it doesn't have to be this huge time consuming task.
It's all about strategy and working smart with the resources you have. It's about getting your brand in shape, connecting with the right people and being consistent in everything that you do.
In PR 101: The Full Course, I'll show you exactly what you need to do to start working on your brand's public relations efforts and by the end of the course, you'll have a new understanding of how great PR is the best thing that can happen to your business.
​ ​
You'll get all the tools, strategies and support you need to make it happen.
This is a step-by-step email course to help you start with your PR efforts and maintain them until your brand is ready to hire a consultant to take it over.

When you sign up for PR 101: The Full Course, you get:
4 weeks of guided, step-by-step video instruction by yours truly that will cover everything from branding and identifying your target audience to creating your first campaign.
Ready-to-use templates and email copy
Planning worksheets
Affordable and DIY ideas to maximize your resources while getting your brand in front of the right audience
PR 101: The Complete Binder, 2nd Edition
Ready to see it all come together? Reserve your spot for this limited course today. The course launches on March 14, 2016 at 8 am CST.
Simien Media Group, LLC