Paul C. Brunson Talks Growth and Something of Value
By LSherie on December 31, 2014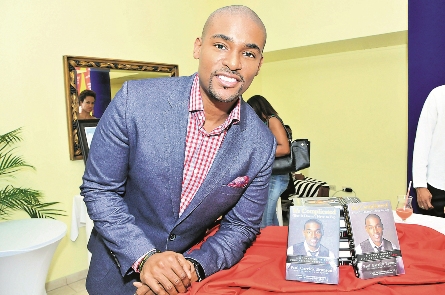 Encore Exclusive 
PAUL C. BRUNSON | GROWTH &
SOMETHING OF VALUE
As powerful as it may be, not everyone values the simplicity of love.  Not everyone experiences the truthfulness and fulfillment of it.  That doesn't mean that love isn't meant for everyone.  It just may mean that love hasn't found them yet.  Complex, yet simplistic, it's hard to explain.
How do you find love? Don't ask me.  Even though I know I have it, I'm no expert on it.  It's that guilty pleasure of knowing someone is there…always there and will always have your back. But, it's so much more.
Over a year ago I started following Paul C. Brunson.  His name quickly became household with his intriguing social media posts schooling hopefuls on love, how to obtain and maintain it.  No matter what you may think, love requires maintenance.  From his post he became the real "Hitch" of social media.  Connecting the dots for those longing for a chance to "get it right this time" or just taking a chance on that someone special.
The strength about social media comes with engagement.  It's not about the total number of followers, but those you impact in your communities.
I agree.
Every person has their own perspective on love and what it means, how it feels, what to look for, what to avoid, how to get it, how to keep it, even when to let it go.  With his wisdom and background on relationship building, his once nickname, "Real Life Hitch" has now morphed into the self-brand as Paul C. Brunson.  There's been no slack in the credibility of his persuasiveness to lure people like you and me to understanding more the science of knowing who you are, what you're looking for and how to compromise.  Just a few elements of love.
I had to snag the chance to talk to him once again about all the doors that have opened since our first conversation in 2013. [Paul C. Brunson | From A Business to A Business…MAN]
That was more of an introductory to who he is as a man and as a business…man.  So since then, there's been a lot of wonderful developments in which we will soon see firsthand in 2015.
First, for those who may not know, Paul was discovered through social media soon landing a co-host role for Oprah Winfrey's Network (OWN), LoveTown, USA.  Even during the seasons of the show, Paul continued pouring out and sharing tips and other tidbits about healthy and even warnings of unhealthy relationships.  Needless to say, with the show and full support of Oprah Winfrey, Paul had opened up a can of success with no end in sight – only possibilities.
He's traveled all over sharing his teachings on relationships and even business and life tips.  From being featured on Good Morning America, the Today Show, Essence and even CNN, to name a few, Paul is climbing mountains, tearing down walls and breaking through barriers.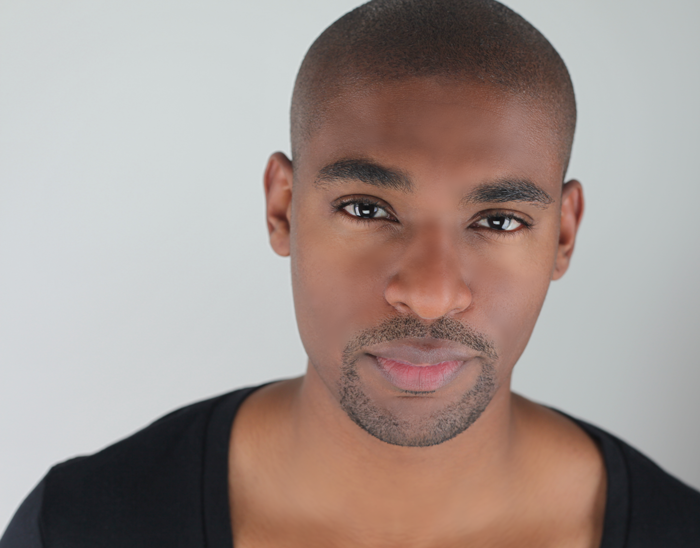 So here's what Paul is up to now…
MENTOR MONDAYS
A lover of people from the heart, Paul has devoted his career to mentoring inner city youth, especially young men.  His love for mentorship started way back before becoming a matchmaker in Washington, DC.  With the increase of his ever-growing base, Paul recently launched Mentor Mondays to create awareness and drive conversation about the betterment of life, business and relationships.  Always adding something of value, Paul is pushing the importance of healthy lifestyle and bringing it full circle and it's open for anyone to take advantage.  The topics range in depth from the usage of birth control to being your authentic self to inspire and motivate.  Since its inception, Mentor Mondays has reached thousands of people weekly so now, Paul is working on making his mentorships even more personal and engaging.
I'm creating a new forum session through YouTube and Podcast to get more engagement from the audience.
HITCHED
Back in November, Paul released a new web series, Hitched in conjunction with Esscence.com and the buzz is all around!
Each episode features a couple's journey to making the ultimate commitment. Weekly, hear amazing stories about the power of hope, overcoming fear, and how love comes at unexpected times.

 
BLACK ENTERPRISE
Since we last spoke, Paul received the opportunity to open up the minds of celebrities discussing various topics that are most geared toward 30 to 40 year olds with new production, OurWorld TV.
Paul stated that OurWorld TV is collectively a variety of stories based on entertainment, humanitarians, business, life, etc. and it's not just for African-Americans, but is multi-cultural.
OneWorld TV is about telling inspirational stories.  I prepare enough where I'm intrigued with topics that I want to talk about which allowed me to have one of the best jobs I've ever had.
My favorite interview was with KeKe Palmer's mother.  It wasn't even supposed to happen.  It was very moving and powerful.  It was a full interview about surrender – had the whole crew crying.

My interest in Paul's interviews had already grew since watching his interview with actor, Nate Parker(link). I was curious about who he wanted to put in the hot seat next…
My top five people to interview will have to be 1) Oprah – on the couch. I would love to talk to her one-on-one; 2) Kanye West – the thing about interviewing Kanye is that the interview would have to be 25 minutes of uninterrupted conversation.
If you know me, you know I love Kanye West.  Needless to say I begged for a sit-in for that interview when it happens.
3) Kristen Walker; 4) Byron Allen – powerful African-American and 5) Most definitely Shondra Rhimes.
Paul admitted that there's a lot of interest from celebrities to be interviewed for OurWorld TV.  They want to be shown in a different light, and who wouldn't want a little positive media.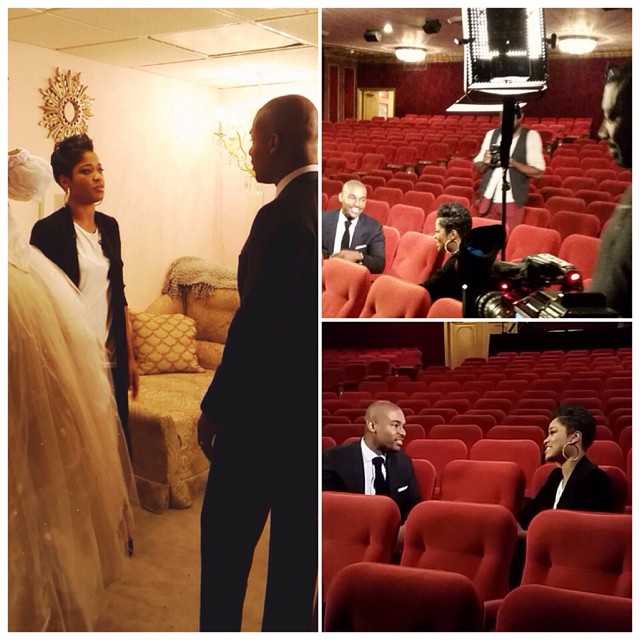 MODERN DAY MATCHMAKING
If I had to guess Paul's comfort zone, I would bet on matchmaking. At least to me he seems to bring people together with little effort, but I'm just on the outside looking in.  He's definitely not your typical matchmaker – whatever that is.  He's stern in his beliefs and all about being honest. But he also makes it fun and using social media to his advantage.
What is Modern Day Matchmaking? Well, it's a series of matchmaking hosted by Paul every Wednesday around noon or 7 or 8 PM.
I'll have a bachelor in the office with me while tweeting out responses to questions and then post a photo.  Those interested must complete a form in order to meet the bachelor.  Paul received over 1,000 filled forms from possible candidates.  From those, only three are chosen to meet the bachelor.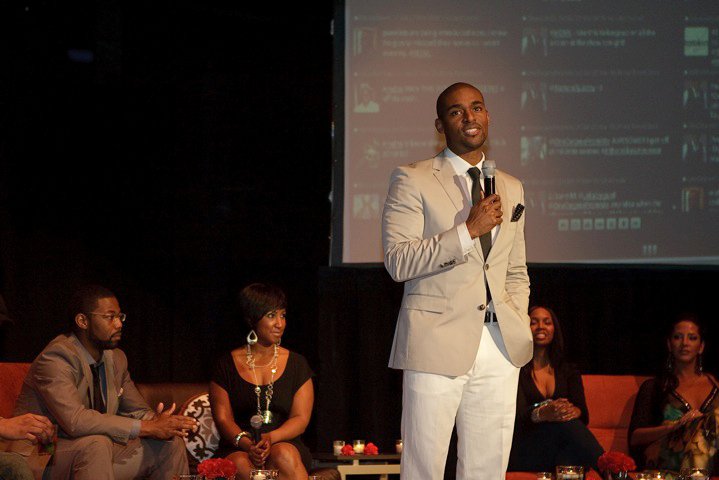 WHAT'S NEXT
Paul revealed that he has three projects underway which he's been working on for over a year with associated teams to be launched in 2015.
I wish I could dish all the details, but Paul is pretty hush, hush for now, however after our actual conversation, Black Enterprise released a bug earlier this month…
Award-Winning Matchmaker and Author, Paul C. Brunson, Brings His Life Story to the Big Screen 
PAIN POINTS
Somewhere is our conversation, we got off topic and drifted to an in depth discussion on Ferguson, the heal process after the unfavorable verdict in the Michael Brown case, and what should happen now.
As you know, protests and marches and speeches continue all over the country and parts of the world screaming #BlackLivesMatter.  Being that Paul has a deep understanding of relationships and the importance of mentoring, I was curious about his stance on the situation.
We all need to be doing something in life.  Something of value.  I'm a father of boys…black boys.  The solution is that everyone should get involved with something that's meaningful.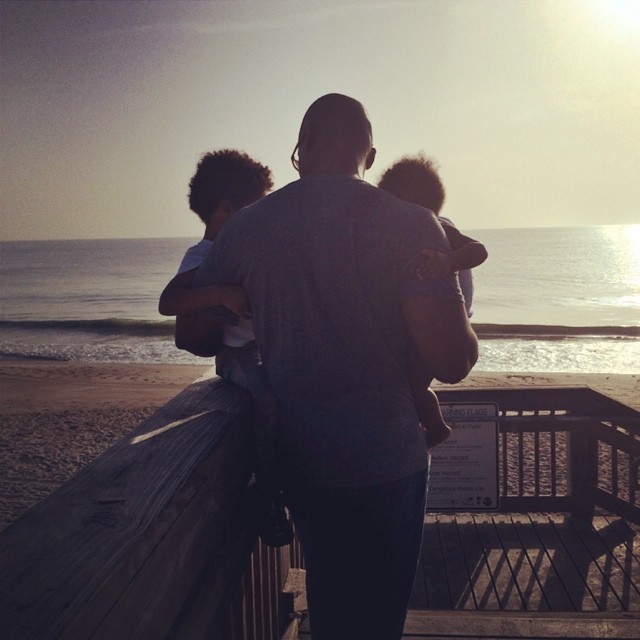 I believe everyone has a pain point – something needed that we don't have.  People are angry.  People are tired of brutality. Getting people to vote who don't see the progress in their own community is hard to do. Attacking a problem must be solution oriented.  We have to ask ourselves, what are the pain points? 
Those pain points could be people relating to others, gaining confidence, unemployment, poverty, education….etc. It's a complicated issue and leaders need to help pinpoint those pain points by looking at this situation historically.
I get to talk to people like you who do things that will shape people beyond your time.  This is how you identify pain points.  I see your likes.  I see your retweets. I see all the positive things you're doing.  This is something of value.  Something we all need.
Honestly I hadn't thought of it in that way.  I stand with those who protest peacefully and march and rally, but I do it using my platform.  This is just my way of speaking out against and addressing those "pain points."
Truth be told, healing begins when we [Black Communities] work together.  Yes voting matters.  Yes education matters.  Yes employment matters.  All these things work together and if we can take these horrific events and turn them into a revolution of no more and truly stand with each other, we can definitely start to heal and regain who we are, what we stand for and fight for our youth.  We all deserve a fighting chance.  Banding together peacefully and with a foreseeable plan of action to attack those pain points is what I believe is needed to get this justice thing balanced.  Just the beginning.
GROWTH
After discussing all of the awesome projects, those he's excited to launch in 2015, and pain points, Paul and I talked candidly about growth and how he has changed for the better since our first interview…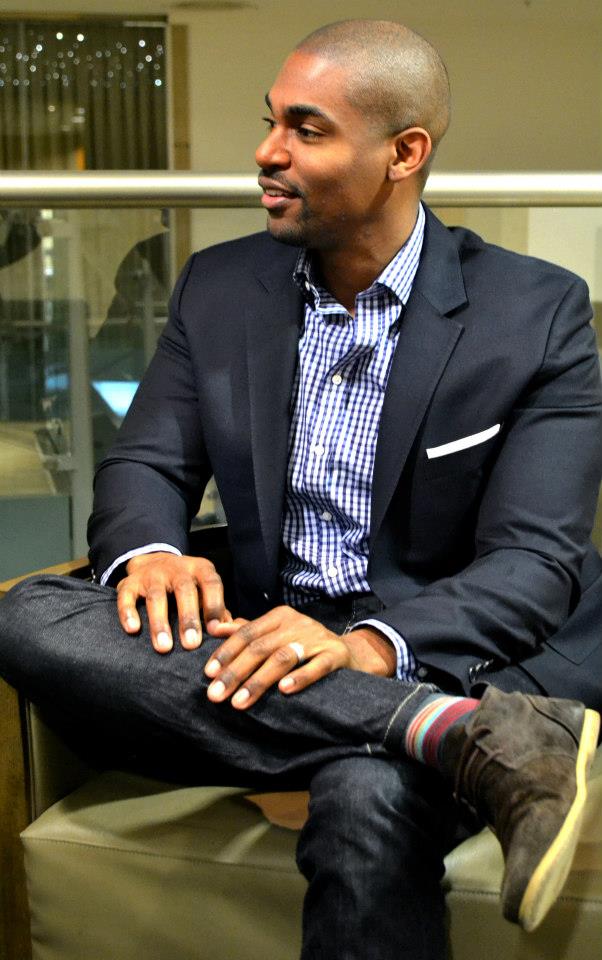 I have more confidence in my own voice.  Once I saw that I was doing great, I realized that we are all multi-talented…multi-dimensional people and we don't have to be put in a box.  Being unique reigns.
I told him how I've seen a change even through social media, not necessarily with followers, but the depth of engagements and his visible impact on people everywhere. To me, Paul has come into his own.  Started on Twitter and now he's on major networks, news sites and soon will be releasing his life story on the big screen.
Witnessing Paul's growth has been spectacular and a blessing.  Every single day he's inspiring and motivating people rather it's me or you, his influence has strengthened.  I'm proud to share his beginnings because I know this is just the tip of the iceberg for what's in store for him.
Take note. The writing is on the wall…Paul C. Brunson is becoming a mogul right before our eyes.
Much success hearts.
– LSherie
______________________________________
CONNECT WITH PAUL C. BRUNSON
Twitter / Instagram | @PaulCBrunson
YouTube | Paul C. Brunson
Web | www.PaulCBrunson.com
You may also like...
Copyright © 2016 The LSherie Alert, LLC