Welcome Home Demi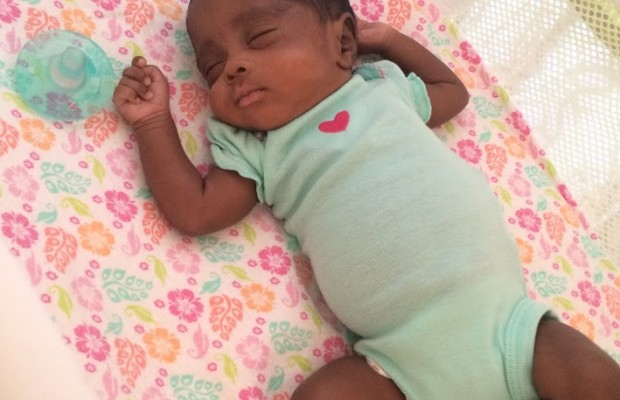 After two long months in RiverOaks NICU, we finally had the pleasure of welcoming our sweet angel, Demi home.
I'm not sure If I'll ever find the words to accurately describe my emotions. Relief. Gratefulness. Joy.  I think I cried more than anything. My… our beautiful baby girl was finally coming home.
As the nurses gave their final reports… as they pulled away the cords and helped pack her things… I felt this amazing wave of grace. God's Grace.
You see, Demi was supposed to be confined to the clear incubator in Suite 13 for three months. Three whole months of constant beeping, probing and monitoring. Three routine months of Ignacio and I arriving early and leaving late – spending as much time as we possibly could by her side.
Three months before she would ever feel the warmth of sunshine on her face. Three long months before laying in a bed dressed and made safe just for her. But it wouldn't take that long.  While we planned for three months, God had other plans.
Demi was being released exactly one month early.
As I folded her little preemie onesies and started packing her things, tears rolled as I remembered seeing her connected to so many machines.  I quivered at the thought of her feeding tube running down her nose just so she could get the proper and sufficient nourishment.
My heart swelled as I remembered our first skin-to-skin contact.  I could still feel the frailness of her tiny bare body gently laying on my chest.
Moments that will rest in me forever like the first time she smiled at me. I cried again. Ignacio smiling and telling me today is a great day and the nurses fighting over who's going to babysit Demi… it was a joyful day and I so many mixed emotions as I smiled and cried at the same time.
You're probably wondering why I would be crying. It's happy time right? Yes it is, but the reality of taking my baby home made me wonder if I was ready. I worried if I would make mistakes.  Silly I guess. We had already been through so much.  No play-by-play guide book to help, just moved day-by-day with God's Grace and Mercy. That's all we could do.
It was bittersweet.  The day we all had been waiting for had come and our next chapter began.
After car seat checks and making sure I knew what the heck I was doing , the time had come and we were given the final okay to leave the NICU.  Demi, dressed in pink with white butterflies allowed the nurses one more hold… one more goodbye. I didn't mind.  They were her family too. Besides us, the nurses, that suite, those noises… it was all she knew.
Her father proudly carried her out to the car… into the most beautiful sunlight with our family and friends surrounding us cheering and thanking God.  A beautiful, simple celebration in Demi's honor was held on the pavement right outside the RiverOaks NICU.  Camera flashes from her Poppi Dean, kisses all around and the releasing of balloons as a symbol of broken chains.
It took some time, but we got her buckled safely into her car seat, loaded her things, hugged and kissed and waved goodbye as we drove off with our baby girl on her way home.
Don't tell me what God can't do, because I've seen enough miracles to pull me through.
____________________________________________________
MAMALOGUE is LSherie's true stories of mommy life with a preemie.
Follow Demi Jade on Instagram and SnapChat @iamdemijade