Top 10 Reason Why Being Mommy Is Boss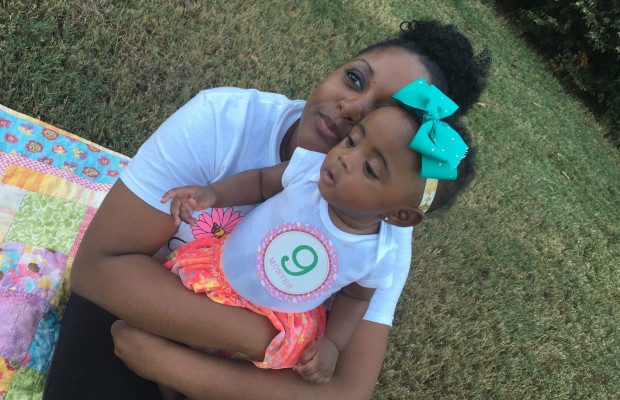 "Congratulations! You're a mommy!" Those words never sounded more weird the first time I heard them.  It had always been a dream of mine to be a mother. Nothing would ever bei as surreal as the moment it became true.
Now, I've heard time and time again how spectacular motherhood is, but I had no idea it would be this cool!
Let me back up for a second.  Years ago, like when I was in college or even during my young tender high school days, I had no problem at all babysitting… especially because I was getting paid. I love babies! The best part was sending them packing stuffed with sugar right on back to their parents. LOL! I know… that was wrong and I pray no one does me like that.
Seriously though… that was easy. Now that I have total responsibility of my own tiny human, my whole thought pattern has changed. MY LIFE HAS CHANGED! Definitely for the better!
Let me explain…
While I was pregnant I received all kinds of unwarranted advice and opinions from mommy's everywhere. Everyone told me how my life would change… DUH. Everyone talked about how rough parenting is and all that other jazz…especially as a single mom.
Side Note: You're not a single mom when you've got a whole village of people supporting you.
RELATED STORY: What "It Takes A Village to Raise a Child" Really Means
Yes indeed, children are a huge responsibility and can alter your entire life in ways you never even thought imaginable. No matter the challenge, because if you've been reading… I've endured many challenges giving birth, I graciously accepted the role of being Demi's mommy.
Whether it's your first child… like me, or you have several children, there will always be challenges, but let me tell you why being a MOMMY is so darn BOSS!
You can breastfeed! Aside from men not being wired to feed their child(ren) from their very bodies, the capability to nourish your baby in the most intimate…bonding way is a blessings. Like do you realize you produce all the nutrients your baby needs and it's FREE?!!! That's Boss!
Shopping. This one might just be for me, but shopping for Demi gives me life.  I don't even care about shopping for myself any more.  I get so excited about dressing her up.
Being more conscious about making healthier life decisions.  Being a mommy really puts life into perspective. I find myself choosing better foods (something… don't judge me… I'm getting better), exercising more, just overall taking better care of myself.  I mean, your baby needs you to be healthy to produce that awesome liquid gold and to do all that shopping… you gotta be fit girl!
Purpose.  Did I mention how my life has changed? Well, I have this overwhelming burst of purpose flowing through my veins ever since Demi make her debut.  I even watch my money closer. I have a major role to play and I plan on winning Mommy of the Year! Seriously, your baby will give you that extra push you  need to better yourself… to better their future.
Dishing out chores.  LOL! Now, Demi's no where near ready to be assigned chores, but mannnnnn, now I see why my parents gave us chores! So much to do… so little time… oh but help is on the way!
Sharing your favorite childhood movies.  Demi and I watch all kinds of cool movies that I absolutely loved growing up… like Little Mermaid, Fox and the Hound, Curious George, and The Never Ending Story, and a million others. It's awesome bonding. I love the way she lays her head on my chest when we do this.
Witnessing a miracle.  Believe it or not, children are little miracles. To be a mommy is a miracle. There are so many women who beg God for their own little angels, but are able to.  I don't take Demi's life for granted not one bit. No matter how many diapers we run through… how many shirts are ruined from spit-up… I'm good. Your baby is a miracle… and so are you.
You're the apple of their eye.  I don't care what's going on, your baby will see you first.  They can sense your very scent and know the rapid pace of your heartbeat.  You're like a super hero to your child, that's why they call your name so much. (I can't wait!)
Growing together.  You may think you know yourself now, but when you have a child you realize you are just starting to grow up.  You learn more about yourself; how you handle situations and you may even become a little more patient. Growing with your child…becoming a better you is definitely Boss.
The things they teach you.  As adults, we think we know everything.  There's something special about the way a child see's life. They have a wonderfully majestic way of reminding us of the simple things we take for granted. They teach us patience, kindness, responsibility, that it's okay to make mistakes, and no matter what…love and slobbery kisses solves every problem.
If you're like me enjoying the journey or if your journey hadn't quite begun, forget all that negative stuff people say about being a Mommy. Embrace your calling! Embrace your super powers because you're truly Boss!!!!
Blessings!
_____________________________
MAMALOGUE is LSherie's true stories of mommy life with a preemie.
Follow Demi Jade on Instagram and SnapChat @iamdemijade