Terri J. Vaughn Paving the Way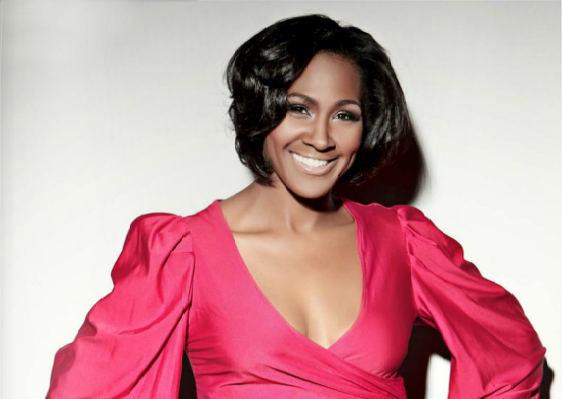 TERRI J. VAUGHN

 
PAVING THE WAY 
DENIM Magazine Interview by LSherie 
Her smile is as big as her dreams and larger than life may they be; Terri J. Vaughn proves over and over again that she has the grit to be a successful actress, devoted to empowerment.  Influenced by her past and community activism, Vaughn not only gives back, but supports positivity and growth.  Often seen wearing a smile, this lovely actress is guaranteed to go the extra mile… – LSherie 
__________________________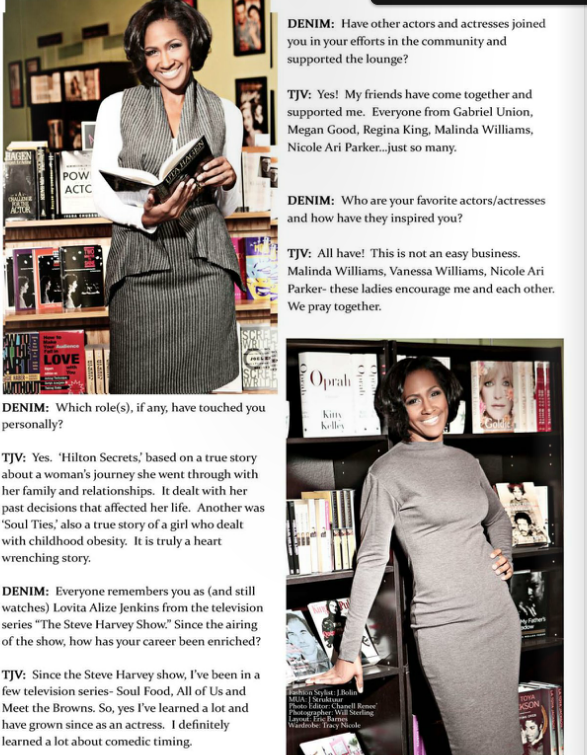 DENIM:  Everyone remembers you as (and still watches) Lovita Alize Jenkins from the television series "The Steve Harvey Show." Since the airing of the show, how has your career been enriched?
TJV:  Since the Steve Harvey show, I've been in a few television series- Soul Food, All of Us and Meet the Browns. So, yes I've learned a lot and have grown since as an actress.  I definitely learned a lot about comedic timing.
DENIM:  How was working with comedians Steve Harvey and Cedric the Entertainer?
TJV:  It was great!  I love the people I work with and I learn so much from them.
DENIM:  Was the 20-city tour of the play, "Tellin' It Like It 'Tiz" your first taste in acting?
TJV:  Yes.  This was when I fell in love with acting.  I had a great director that encouraged me to study and that's when I decided to pursue acting.
DENIM:  Do you have any plans of acting on stage again?
TJV:  I have been in other stage plays after that.  So it's a possibility.
DENIM:  What have been the most difficult issues to overcome as an actress from the beginning of your career to the present?
TJV:  Staying employed.  When a project ends, you have to find another.
DENIM:  Many may be surprised to learn that you actually produced and starred in the documentary, "Angels Can't Help But Laugh."  What challenges and successes did you gain as a producer and actress for this documentary?
TJV:  The most challenging would be finding funding.  However, my partner and I worked together to fund the documentary along with others in the industry who supported the film. It was a great experience directing and editing.  Another challenge was timing with all the actors- bringing everyone together in 2-3 days.
DENIM:  Are there other opportunities for you to produce another documentary or dabble in producing major films?
TJV:  Definitely.  I have a company (Nina Holiday, Entertainment) and I'm currently producing "Across the Bear" to air February 18, 2012.
DENIM:  Congratulations on opening the Green Room Lounge in Bankhead.  What inspired you to open up this very unique lounge?
TJV:  The Green Room Lounge is a theatrical book store for comfort, a place to read books, have a drink, eat a little and just chill.  I started teaching acting class and my students wanted to know how to get a hold of the books we were using.  At the time, Atlanta did not have a place where aspiring actors had access to acting books.  I contacted Samuel French, Inc. in Los Angeles about the possibility of opening a book store in Georgia.  The lounge now has books that I suggest for aspiring actors and even those that I read.
DENIM:  How does the Green Room Lounge play a factor in the betterment of the Bankhead community?
TJV:  We have open mic night every Friday night that includes singers, rapper, poets and more.  We also provide aspiring actors the opportunity to meet and network with entertainment professionals.
DENIM:  Now tell us about the Take Wings Foundation?
TJV:  I started the foundation 14 years in San Francisco, where I'm from, for at risk girls.  I lost a lot of friends to drugs and gang violence growing up and I wanted to reach out to girls that from my environment type to make better choices and decisions.  I wanted to empower them.
DENIM:  Have other actors and actresses joined you in your efforts in the community and supported the lounge?
TJV:  Yes!  My friends have come together and supported me.  Everyone from Gabriel Union, Megan Good, Regina King, Malinda Williams, Nicole Ari Parker…just so many.
DENIM:  Who are your favorite actors/actresses and how have they inspired you?
TJV:  All have!  This is not an easy business.  Malinda Williams, Vanessa Williams, Nicole Ari Parker- these ladies encourage me and each other.  We pray together.
DENIM:  Who would you love to work with in the future?
TJV:  One person I would love to work with is Meryl Streep.
DENIM:  Which role(s), if any, have touched you personally?
TJV:  Yes.  'Hilton Secrets,' based on a true story about a woman's journey she went through with her family and relationships.  It dealt with her past decisions that affected her life.  Another was 'Soul Ties,' also a true story of a girl who dealt with childhood obesity.  It is truly a heart wrenching story.
DENIM:  What are the next steps of your career?
TJV:  Continue to produce film about black people – telling challenging stories, being relevant, sharing talent and creating an avenue for others.
__________________________