Solid Gold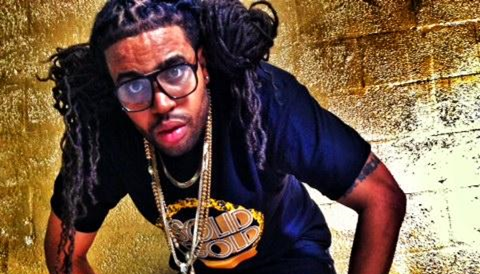 SOLID GOLD
Yell Kinfolk and you know who it is. Kia Shine has definitely earned his spotlight in the music industry. By studying his craft, understanding what makes a hit record, and being discounted by a few. Kia Shine is determined to reach the number one spot- to make a statement. The native Memphis, Tennessee rapper and producer has already set wheels in motion for an epic year to surely bounce his name back into the limelight.
While I wasn't sure what to expect when talking to Kia Shine, I was singing the lyrics to his hit record, "Krispy," – you remember "Krispy," it made quite the splash on urban airwaves in 2007. Everybody was walking around talking about how "Krispy" they are. We will get to how that song took off so well later. Anyway, I was a bit nervous – as I always am, but his humbleness and chill attitude killed that immediately.
Forget the music, the fame, the success; I opened the interview asking Kia Shine about himself and where his motivation lies. Like I stated before, I wasn't sure what to expect, but when he spoke…he spoke with passion and certainty. "Who I am can be kind of complicated," he said. "I'm a vessel- here to be used by God to inspire, educate, and to help others. I feel like God is working through me. I'm being used for a greater cause – I'm a father to my children, a husband to my wife, and leader for my family…a man of faith. As for my motivation or inspiration, I'm inspired by positive blessed people; situations; music; success and my life as an underdog."
Refreshing. While he was talking about being a father to his beautiful children, he was actually scooping his son up from school. "You know whenever I'm in town, I make a point to pick up my son," he said. "That's my responsibility as a father, that's my lil man." That made me even more excited about the remainder of our conversation. Kia Shine has four beautiful children – I didn't mind one bit that he wanted to greet his son at the end of a school day and take a moment to talk to his teacher. Fathers take note. You can make time for your career and still be there for your family. Very important and I am thrilled that Kia Shine sees the value in supporting and caring for his family and still bring home some thick bacon.
Once the little man was buckled in we begin to talk about Hip Hop and how he was introduced. Like many 80's babies, Hip Hop was what we [yes, I'm including myself] were born into. "Hip Hop, I feel, is the same age as me. I remember RUN DMC and LL Cool J- it was music for my generation- my culture. I could identify with it. Hip Hop became my love affair. I started making demos in the 3rd grade. From there I acquired the skill to put a record together. For a long time, nothing made me feel like music. I was intrigued by the whole process." Nice. I offered up some of my fond memories of Hip Hop in the 80's too. LL Cool J could do no wrong in my book and Kia and I both agreed- the man still got it!
But then Kia begin talking about the people that he feels were placed in his life during this time of relating to Hip Hop and realizing his talent. "God blessed me to have people like Eric Giles, a guitar player, in my life. By him being in my life, God let me see an example of what I should be doing – I was inspired. God continued to put people around me to show me the business, not just money, but about learning the business. It was about learning the basis. So I started doing music for my brother's group, Loss Innocence. From there I became CEO of Diamond Cut Entertainment."
Speaking of people being placed in his life, Kia Shine had a very special relationship with his mother who recently lost her battle with breast cancer. After the devastation of her passing, Kia wrote a song in her honor, 'Always Love My Momma.'
Kia stated that the video for dedication to his mother was received well being aired on MTV and BET networks.  Ironically, the video premiered on Mother's Day.  Because the dedication to his mother was received so well, Kia Shine realized that this song not being his known type of music may have opened him up to branch out (we'll get to that later).  "I realized it was a record for my mom, not really for my fan base.  It allowed me to realize that my music is limitless.  It's time to take the limits off.  I can't be confined."
Moving to a lighter subject we begin talking about his success breaking into the industry with chart topping, 'Krispy.' "What made it [Krispy] successful was that I had already built a fan base in my region with 'Respect My Fresh.'  I wanted something that would be global- something big. So I was doing business overseas and decided to conquer and bring my music global.  I was able to put the same ground work I've learned into this record- breaking the music- applying what I learned as a CEO and as an artist.  I knew to be successful you have to create a story, a brand, and put money into making a record special.  A lot of people don't know, but I put my own money into producing writing, etc. for this record.  It was done and became successful through God's favor and me grinding- like 'Checking My Fresh' was not produced by a label- I did that myself."
I always said a true hustler will master his/her craft not to cut corners, but to cut cost- to make wise decisions and still be able to make his/her product be of quality.  Kia Shine understands this as well and even though you may have not seen him in the forefront, trust and believe he's grinding behind the scenes.  He's stamping his name on his product.  "I was thinking like, Kia Shine doesn't have a record out right now, so let me write, produce- use my skill set to remain relevant."  And so he did.  "I started by signing Drumma Boy beats to Universal and pushing distribution. I was the first to sign Drumma boy and a sell his beats to UniversalRecords as well as Ruff ryders and used that to ink a publishing deal for my company. Then came Yo Gotti, I signed Yo Gotti and put out his "first "major label project.."Life"… that started his career. I also have a pecentage of the publishing on 5star chick record," he said.
When asked about the most important lessons he's learned as an artist and producer throughout his career, Kia Shine ignited.  Artists… listen up! "You gotta copyright/trademark everything! Protect your entity! Paper it up so that no one can take it! It's your baby- continue to be creative, but protect it! I always say, 'same grind, different day – can't take a day off until you get the payoff!'"  I'm sure you remember the 'disagreement' between Kia Shine and Drake over single, 'Best I Ever Had.'  Well, when I asked about lessons learned, Kia had a brief reflect on that incident.   "I co-wrote the songs and got the plaques and credit." Although it's settled, Kia Shine keeps this little mishap in his mental library to avoid similar situations such as this in the future.  I don't blame him!
With that being said I wanted to know the difference between developing as an independent artist versus a mainstream or industry artist.  "I guess I would say the difference would be being able to work with less- period.  As an independent artist, you don't have the dollars to compete, but you gotta work smarter.  Networking is important.  Be mindful of when and how to take shots – plans of attack and conquer."  Naturally I wanted to know more about attacking and conquering, so I asked him about advice he would give to artists.  "I would suggest independent artist to market in a hub city to get a better chance of labels hearing or picking up your music.  Learn the business." Hope you all are taking notes!
While Kia Shine has already made a name for himself, he feels there's always room for improvement especially in the entertainment business.  "I know that I need to acknowledge and grow with the game.  I have to do other types of music- more EDM (Electronic Dance Music) that stretch through other demographics- cross genres."  Not only that, Kia Shine started a consulting business for music artists know as, Connect the Dots.
So what's new with Kia Shine?  Well remember I said that he will be in the limelight this year, Kia Shine is finalizing a new album, 'Limitless' to feature a beautiful song with the lovely Indie Arie.  However, his single, 'Solid Gold' has already dropped from this album and is expected to do well.  He has a new mixtape crowned, 'Sound 'Bout Right.'  Oh, but wait! ACTING?!  Kia Shine told me that he has been taking acting classes and graciously thanked actress Terri J. Vaughn! "Terri helped me get an acting gig.  It's actually a recurring role on a new show called G.A.L.S. (Grown Ass Ladies) written by Terri J. Vaughn and produced by Roger Bob.  So keep your eyes open, Kia is breaking in 2013 with new music, new projects, and a new found respect! "Sound 'bout Right!"
Solid Gold – Kia Shine
_________________
CONTACT
TWITTER |@TheRealKiaShine  /   @iconnectthedots
INSTAGRAM | @Shine1000Words
"Everybody sleeping on me will wake up working for me" – Kia Shine