She's In Color Campaign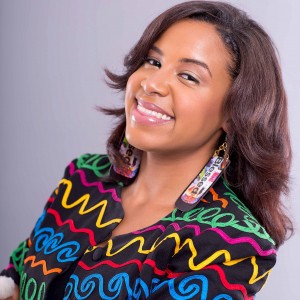 On one hand there's fashion.  On the other, there's a deep desire to bring out the best in women all over the world.  Fuse these two together and a smashingly colorful campaign is born, known as, She's In Color.  Aaja Corinne is not your average fashion stylist.  The first thing that comes to mind is inspiration.  Aaja is an inspiration to all of the women who participate in her awesome campaign.  It's a unique way to showcase different women and their own element.  This campaign reminds me of the cliché, "we are all different, but special in our own way," and that's why theLSHERIEalert salutes Aaja Corinne.  She's using her talent to encourage and motivate and that's pretty dope!    -LSherie
LSHERIE:  I love the intertwining of fashion and philanthropy! Where did the idea to create She's In Color campaign derive?
AC:  Thank you so much! After I graduated from Columbia College Chicago, reality set in like, "okay, now you're on your own." I interned and began styling while I was in college, but building a brand didn't come until afterwards. I knew that I had to find my niche, so I began considering what fashion really meant to me. I decided that I wanted to help others in my career, and I'm very passionate about things relating to women, youth and education. The concept of She's In Color came about when working on my website launch. My friend and colleague, W.J., mentioned the name, and I ran with it. I initially conceptualized it to be a women's empowerment campaign in the form of a lifestyle blog that featured women with inspiring stories and talked about "all things woman." Since then, it evolved into a photo campaign with plans for a workshop series, awards dinner and conference. Other collaborations and partnerships are in the works as well!
LSHERIE:  Tell us about this awesome campaign and how it's become a growing inspiration.
AC:  She's In Color is designed as a call for women of all ages, nationalities and different walks of life to embrace their individuality and purpose. I don't have a favorite color; I like all colors because I feel like each represents my multi-faceted personality. In the same respect, I view women as a spectrum of many colors. Visible light is formed through the fusion of R.O.Y. G. B.I.V. I equate a strong community of women to the coming together of every woman playing her unique role in life. Everyone is so different, yet so vital to making the total piece work.
The campaign is so important to me because I feel that the media often portrays women in a less than ideal fashion. So many people gravitate towards shows like Basketball Wives that offer a distorted perception of beauty, and most importantly, reality. For a lot of teen girls and young women, that lifestyle is something to be glorified, but the reality is that won't be the reality for most. I believe that the media and music of today have had a huge impact on shaping societal values and standards. It seems that anything goes these days, but a good reputation and self-respect remains priceless. She's In Color is set in place to get back to the idea of "women of substance." We feature real women with real stories in an effort to inspire others to conquer their fears, pursue their dreams and embrace who they are without any reserve.
LSHERIE:  Who have been or still are some of your biggest supporters for the campaign?
AC:  Wow, that's a great question. My representation, Eminent PR Group, is definitely very supportive and always finding cool ideas and partnerships on my behalf. My friend, W.J., is very supportive. My team that helped to produce the photo campaign – Mike and Naomi of Mike O Images, Makeup Artist Nicole Richardson of Flawless Beauty, and Hairstylist Jamal-Rashad – went above and beyond! There are others; people are really gravitating to the cause. I'm blessed. I believe that She's In Color will really make an impact.
LSHERIE:  Who are the women and how did you choose them?
AC:  The women in the photo campaign are just everyday women in and around the Chicagoland area. I accepted submissions for consideration, but most were hand-selected. I wanted a diverse group of women represented in regards to stories and occupations. My hand-picks were women that I've personally come in contact with through the years that really inspired me.
LSHERIE:  Being a graduate of Columbia College in Chicago, were there ever any fashion cultural differences that may have sparked interest in creating your own brand of styling?
AC:  Attending Columbia College Chicago definitely opened up my eyes in a fashion sense because it's so culturally diverse. I had an interest in fashion prior to attending Columbia, but I didn't know much about it all. Seeing all the students express themselves creatively through dress helped me to get in tune with my personal sense of style.
My entire college experience was crucial in helping me decide what area of fashion that I wanted to pursue. It was really trial and error. Along the way, I tried fashion design, but it wasn't for me. I was just taking a lot of courses in different areas of fashion, and then in the 2nd semester of my junior year, it dawned upon me that I needed to decide on a focus. Blogging was my first move to find my voice in fashion. I would just research different things that I had an interest in and blog about it. I would also share photos of outfits that I put together for myself and talk about good deals I found and how to shop on a budget. (Bargain shopping is something that I love to do – it's like a treasure hunt!) The blog was called "The Style Savvy/Money Smart Experience." It's still up: http://www.stylesavvysaver.blogspot.com.
After while, I discovered that styling was the area that I wanted to pursue. I stumbled across a business card that someone had given me about a year or so prior for Tamika Price of A-line Style Services, a wardrobe stylist and personal shopper. I e-mailed her and by the end of the week, we were meeting to set up an internship. I interned for her for a year, and she continues to mentor me to this day. I learned a great deal during my last year of college after declaring a focus, and that's when I decided that I wanted to be a brand.
LSHERIE:  It looks like you're making some nice waves in the fashion realm, especially in editorials.  What is your goal for your brand and how are you going about achieving them?
AC:  Thank you! My goal is to leave a legacy. One of my favorite concepts is "pay it forward." I strongly believe in mentorship and helping others to accomplish their goals. I often hear the term: self-made. I hate it. No one has ever attained any level of success without the help of others, without help from God.
Fashion, for me, is a platform to do philanthropic work. In defining my brand, I decided that I want everything I do to be connected to a greater purpose; I want to be "more than a fashion stylist." She's In Color is huge for me because it's a fashionable way to accomplish that. Fashion is influential. The fashion aspects of the campaign may draw people in, but as a result, they will be exposed to the good in it as well.
Fashion to me goes beyond just making someone look cute to inspiring someone to be their best self through confidence in their outer appearance. My tagline is "I style for your lifestyle" because I strongly believe in building an image for people that is unique to them and their pursuits. It makes me feel amazing to know that I can make a difference in someone's life by helping them with their image.
I will continue to build Aaja Corinne The Brand with the launch of more initiatives under the She's In Color umbrella such as a workshop series for pre-teen and teen girls, an awards dinner to honor influential women in the community, and a conference. I also have goals to work with youth in the realms of education and entrepreneurship, so I will be partnering with some organizations to get my feet wet with that. My long-term goals are to have an after-school program for the arts and be a community activist.
LSHERIE:  What do you expect to gain from the She's In Color campaign?
AC:  From the She's In Color campaign, I hope to meet and interact with amazing women and increase my circle of influence. I hope that the campaign will be a catalyst for uniting women worldwide, so that we can inspire, impact and influence, elevate the standard and leave a powerful legacy for the generations to come.
LSHERIE:  Describe the most thrilling aspect of She's In Color.
AC:  The most thrilling aspect of the She's In Color campaign is the limitless possibilities. There are so many ways to pursue the mission of She's In Color and so much potential to partner and work with different individuals and organizations. The creative juices are free to flow! The campaign will continuously reinvent with fresh appeal.
LSHERIE:  All stylist have that one person they hope to style…who is your number one-gotta-style person?
AC:  You know, I'd like to style Ciara and see what type of signature look I could develop for her.
LSHERIE:  theLSHERIEalert graciously applauds all who are doing something positive and using their talents for the better good.  Has this been a humbling experience and what are you learning from this campaign?
AC:  The creation of the campaign and my entire career has definitely been a humbling experience. I'm passionate about what I do and strongly believe in the success of my endeavors, but it's humbling to see all the amazing people that support me and want to be apart of what I do. It's truly a pleasure to work with people that I respect and admire. I feel truly blessed by the people that have joined forces and expressed interest.
  "I think that the concept of The L.Sherie A!ert brand of support is great. I love that someone cares about what the "little people" say because we have a voice too! I am honored to be featured on the site. Thank you so much for the opportunity." -Aaja Corinne
CONTACT
Aaja Corinne Twitter:
@AajaCorinne (personal)
@AC_TheBrand (business)
@ShesInColor (campaign)
Aaja Corinne Facebook:
www.facebook.com/AajaCorinne (personal)
www.facebook.com/AajaCorinneTheBrand (business)
www.facebook.com/ShesInColor (campaign)
Website:
E-mail:
aaja@aajacorinnethebrand.com (business)
shesincolor@gmail.com (campaign)
Media Inquiries:
Eminent PR Group