Shannon Ramsey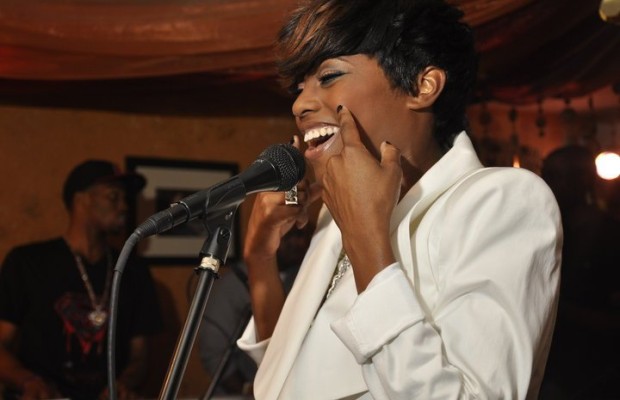 "I knew I had something…" This is exactly what Shannon Ramsey realized early on before the inception of a career as a singer/songwriter ever entered her brain. It's funny that all it takes is a little push here and there; a bit of courage and influence from those you admire most that can help you along your journey. "I remember being around elementary school age when one night I began singing in my sleep. My parents came in my room and asked …"was that you or the radio?"…I answered "the radio." (laughs) That's when I knew I had something, but still very shy," she said.
Shannon's shyness only kicked in when she would sing in front of family and friends, but strangers? Oh that was easy! "Let me just say, I was not as shy to sing around my peers or people I did not know, Crazy right," she laughed. "I used to sing SWV's "Weak" after school with my cousins for anybody in the neighborhood, who would listen, for quarters! It was not until around the age of 16 that I realized I really loved to sing." Shannon soon joined Untouched an R&B group, whom she credits for her new found courage, that was signed to Incisive Ent. "We were great… This helped me to step out of my shell, break into music seriously and forced me not be shy in front of ANYONE," she said. With growth come more opportunities as Shannon begin to truly develop as a singer, she soon became a huge part of a gospel group, ForGvn. Now with all of the experience and exposure, she is continuing her music, but focusing more on pursuing her solo career.
But let's back up for a moment. Yes Shannon credits the R&B group for helping her break into music, but when she – from the first time- heard famed award-winning R&B singer Brandy, she knew that the music and entertainment avenue was definitely her calling. Love her tone and the fact that she is a true vocalist! Also, during that time, seeing Brandy on television and hearing her music, when she 1st came out, allowed for me to see and believe a young African American girl could excel, pursue and achieve her dream…she was an inspiration for me," she said with joy. This was clearly Shannon's "aha moment!" But not only did Brandy influence her decision, there were other singers/musicians that hit closer to home in which she tributes her career. "My family is filled with GREAT singers/musicians. My cousin, Kamary Philips, had a huge influence on how I saw myself as an artist. Everyone around me was sacrificing to do what they had to…he was the first I saw sacrificing to do what he loved. This taught me a lot about living for my DESTINY and not just dreaming about it," she said. And yet again, there was her "aha moment!"
No stranger to music at all, Shannon basically grew up with a family of singers and musicians, so it's not too farfetched that she would follow suit. One of her most prized memories thus far in her career is when she was afforded the opportunity to writing songs overseas. "I wrote my very 1st song "Familiar Feelings" inGermany. Touring there with Kamary and his girlfriend, at the time, Silke was liberating and probably the first time I truly felt like myself. I was only 18 and I needed that experience. It taught me that my gift was real and that a fulltime career as an artist was tangible." Gifted and blessed, Shannon's music and beautiful voice has been heard by many! Can you believe this awesome talented young lady is also an APOLLO vet? YES! On top of all of her accomplishments and open doors, Shannon won a spot on the APOLLO! "Girl, I was like "seriously, thank you GOD"…to be on a stage where some of my favorite, not to mention iconic, singers have performed, as either an amateur or professional, is an honor! So to be picked to sing twice on the APOLLO nearly blew my mind! And, as an added bonus, Ray Chew & the Crew played for me both times…it don't get no better than THAT!" I BET!
Shannon's music has also blessed the hearts of those who suffered the devastating Hurricane Katrina in New Orleans. "The most reviving performance for me was singing with the MSU Choir inNew Orleans. We did a tribute concert for the people ofNew Orleansnot to long after hurricane Katrina. To see how the gift of song uplifted them, during a time when parts of the city were still in ruins, was a life changing experience for me." Beautiful.
But it doesn't stop there… Shannon continues to use her charismatic personality to positively influence women and girls in the numerous organizations she volunteers and serves as a mentor. She wholeheartedly believes in making "an impact on their lives for the better, at least in a way that fuels them to follow their heart." Shannon goes on to say, "I always tell anyone that I speak to, especially women and young girls, that "Giving up isn't something that great people do…" and if you have discovered your gift, go with it, because it will lead you to your destiny! Mold it, perfect it, make yourself indispensable and NEVER give up! I hope they have at least gotten that much from me." Shannon believes in inspiring and that's why we love her even more! "I believe words are powerful. What you say is what you'll become, if you haven't already, so when I sing, I understand there is a mission at stake through the words that I choose to use, and there is always a message through my gift. My gift has elevated me to leadership positions that have caused people, young & old, to say to me "you inspire me to be better" and I'm completely humbled by that," she said.
This made me wonder, what she was doing to continually perfect her craft. Here's what Shannon had to say… "Well 1st thing is, I take weekly vocal lessons because I understand how important it is to keeping you voice healthy! I'm the choir director at my church, so that always keeps my ear to the music and I was recently casted as "SHUG AVERY" in MSU's production of the Color Purple the Musical! I will be utilizing all my talents singing, dancing and acting. I'm honored to play Shug and I am excited to be a part of this production. It premieres April 11th through April 14th. Cheap plug I know, [laughs] but it's going to be AMAZING!"
And amazing it shall be! Shannon is truly an exemplary woman going after her dreams and pursing her goals and bringing up young girls as well as encouraging other women along her journey. Not only is her music dope…she is dope. So now let's talk about the Indie Music Challenge winning song, CRAZY. I enjoyed listening to this song and I actually played it over and over. It's fun and catchy, plus the beat fused with her voice was cool too. "I so glad you LOVED it and extremely honored to have the winning song!!!! Thank you, Thank you, Thank you! I actually wrote CRAZY a few years ago with my very great friend Josh Lay. My manage Corey Floyd actually came up with the hook and josh and I just wrote from my life's experiences and what we knew everyone else would relate to. The track for CRAZY was not what you hear today. The genesis behind the production is Darren Saunders! We had a completely different sound for the song and I wanted a "head banger" [laughs]. I expressed my thoughts to Darren and he completely exceeded all expectation, as I knew he would," she said.
Where does Shannon's career go from here? Glad you asked! Besides her role as Shug Avery in The Color Purple, mentoring and taking care of her family, Shannon is working on a collection of music projects for an album. While her goal isn't necessarily to make it into "mainstream", she definitely is pushing forward and allowing the chips to fall where they may. "My Goal is to be happy and I'm happiest in music! It's authentic for me. I do believe that authenticity is what has helped me gain fans, because I'm relatable and if that leads me into "mainstream" then…Here I COME!" Shannon even told me that The LSheire Alert, LLC will be one of the first to get the "HOTNESS" – her album- and we can't wait!
So ladies and gentlemen, there you have it! Check out the wining Indie Music Challenge song, CRAZY and support this rising star! Much success! – LSherie
Click here to listen to "CRAZY"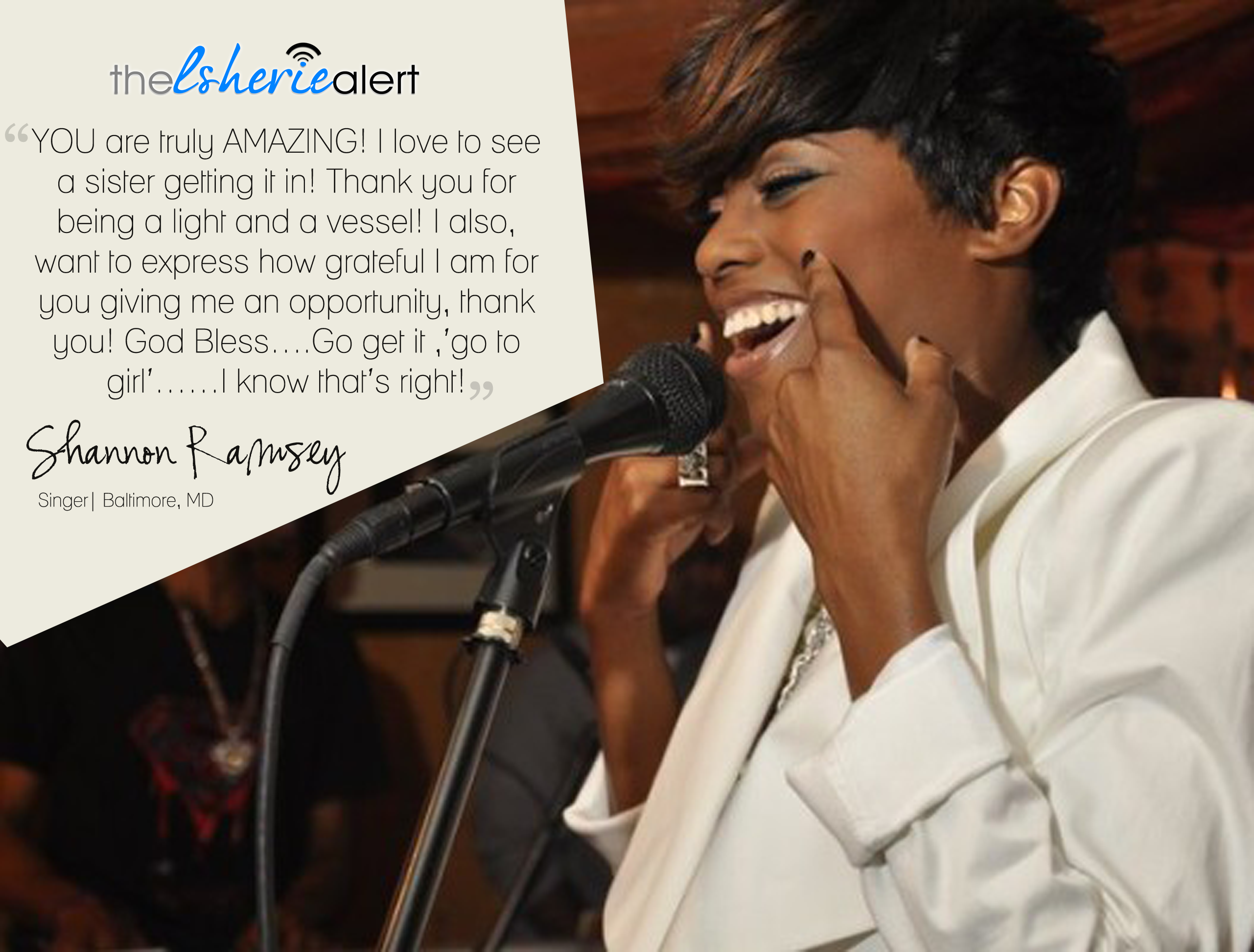 CONTACT
Artist : Shannon Ramsey Twitter :@shannonramsey00 you tube shannonramsey00