Twin Shoe Designers Kicking Up Heels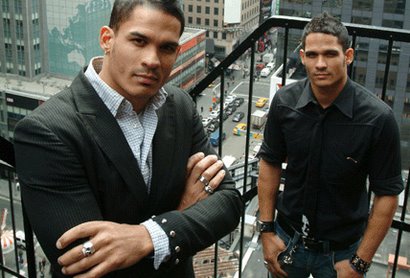 Kicking Up Heels
Shane & Shawn Ward
It's true.  Two is definitely better than one and in this case, two is gorgeously genius!  Intertwining comfort and fashion with that of significant taste, comfort, and originality is just brilliant.  At least that's the reaction of a well –made, well-designed shoe.  And no duo knows more about well made- designed shoes than THE hottest Detroit bred and fed twins in the fashion industry– Shane&Shawn Ward.
From Adidas to Puma and Converse to KanagROOS- just to name a few, the Shane&Shawn brand has been kicking up heels since 2003 creating a matchless shoe game keeping the twins in high demand.  Their constant climb to success has yield profitable, not only in the monetary sense, but richly in communities throughout the nation.  Shane is the "design guru" with a "very instinctive and emotional and in the moment personality while Shawn is the "marketing guru" with a "more calculated and relaxed personality – the stylish duo makes for a creative masterpiece.
Shane&Shawn being life-long members of the Omega Psi Phi Fraternity, Incorporated as well as having an engineering background, tells us why two is better than one and in most cases much more exciting.  "Being a twin is really the most wonderful thing in the world.  From childhood to now, we've always had each other.  As twin designers, it is also great because we trust each other so much; and we have the same fashion sense, so things work incredibly well.  You always have a partner in crime," said Shane&Shawn.  Even though the twins share the same handsome face and savor in fashion, their differences balances making them two-times the threat.  "I have a more downtown/hipster flavor," says Shane.  "Where I keep it stealth," echoes Shawn.   Speaking of style, Shawn wears this really awesome skull ring with everything and just as I was thinking, the ring adds a bit of edginess to his every day garb.  [Laughs] "I've had the same skull ring for 8 years, and each week I get someone who asks where I got it or a general compliment.  I think that no matter what I have on, swim trunks (oh my) or a suit (yes Lord), that it adds that bit of edge that I like… it communicates my fun side that nothing else can," said Shawn.  And there it is.  Buy a skull ring and you have instant edge – aka swag.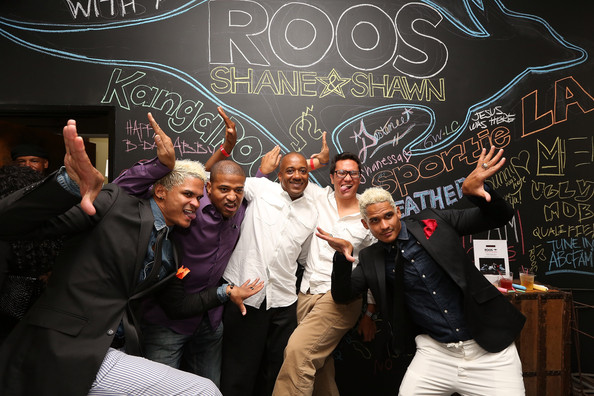 Although knowing since they were kids that they had a special spark in design, the gift eventually led them to drawing and showing an interest in engineering.  "When we were kids…all we did was draw…all day, all night.  While other kids were playing video games, we were creating designs…shoes, people, architecture, etc.  We knew we had a passion for it early on," they said.  But like most childhood dreams, the reality faded for engineering.  It just didn't gratify them.  "I decided to resign after 5 wonderful years at Chrysler Corp.  It was a really good job and career, but I knew that I would not feel totally fulfilled until I worked for myself, thus, I decided to move on," said Shawn.  The move from corporate America to entrepreneurs in the fashion industry must have been a hard one to make, especially leaving behind the security of a lucrative career.  Nevertheless, using their engineering backgrounds and love for shoes to connect in a comfortable, yet successful way, Shane&Shawn moved forward building their empire.  "Engineering is all about problem solving….it really helps us from a business standpoint and being able to react quickly to issues in a smart and efficient way," stated the twins.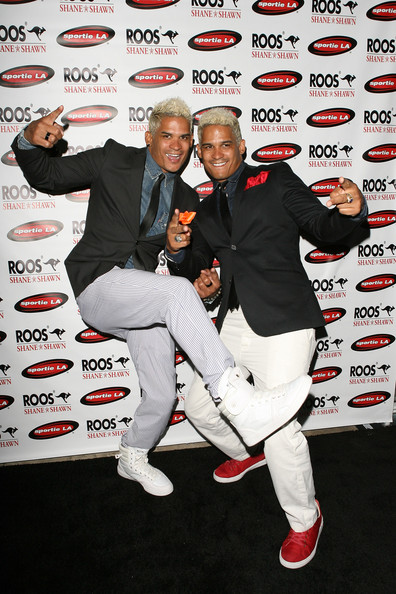 Now very successful shoe and apparel designers, the Shane&Shawn brand reminisces about their love for shoes and the satisfaction gained.  You know that desperate feeling kids have when they do whatever they must to get a new pair of Jordans?  Well that's kind of the same feeling Shane&Shawn experienced further pushing their desires.  "Our love for shoes goes back to middle school, when all we wanted was a pair of NBA shoes.  It was incredible!  Shoes have always had an incredible way of igniting a feeling that clothes can't accomplish.  It changes the way you stand, your height, your profile, and it can stand alone as a piece of artwork that you can always see in its final formation.  We love delivering great shoes with incredible comfort, and when our customers let us know how comfortable our shoes are, it's the best feeling ever," they said.  The passion behind their love for shoes grew tremendously with the famous design of their first men's shoe, 'Gu-Town.'  "It was a bowling shoe inspired design, that still, to this day, people ask for," said Shawn.  Because the shoe is such a major hit, the twins are looking to reintroduce as a signature "S&S" classic.
It wasn't much longer after the launch of the 'Gu-Town' shoe that soon handed them their first big break in the industry when featured "as the next big shoe designers" in Vibe Magazine in its 10-year Juice issue.  From then on, Shane&Shawn have been killing the New York fashion scene with one moment in particular standing out brighter from the rest; when their mother spoke at their grand opening witnessed by family and friends.
Don't believe for a moment that it all happened over night.  Shane&Shawn continued to put in hard work in the beginning as they do now to secure their relevance as great shoe designers within the fashion industry across the globe.   "Slow and steady wins the race.  We are still less than 10 years with our brand and we are still learning, but with our brand being international, our collaboration with KangaROOS, we definitely feel we are in a great place now," said Shane&Shawn.  Creating yet another "shoe print" in their career, Shane&Shawn's Yola boot has been on The View, not once, but many times! What's their secret? Well Shane&Shawn use specific materials normally found in athletic shoes into a "dressier" shoe adding comfort.  Beauty shouldn't always mean painful.  "I think it gives us an advantage, in that our designs bring people in, but our comfort brings them back.  It sets an emotional connection that other brands cannot create," said Shawn.  And that's what you call branding.   The guys are confident that they are "doing something no one else is doing."  Their hardest task is creating women shoes.  They stated that with the many heel heights and comparing those to comfort level are "harder to achieve than men," but nevertheless they get it done.
The Shane&Shawn brand exists to serve customers with "the coolest most comfortable shoes they've ever had."  The twins admit to feeling honored when they see or even hear about people wearing their shoes.  And that feeling must be nice. To know that you've created a brand name for yourself and that it is perceived to be that and more of what you wanted is such a humbling feeling.
These guys know about being humble.  As a part of spreading style and comfort to the world, Shane&Shawn are fighters for women.  They have been very active in fighting violence against women in past years.  "This was something that we've seen up close and we felt that everyone else in fashion was concentrated on Breast Cancer and AIDS…we felt this was something that no one really talked about…especially MEN.  So, we are very proud that we have been able to support VDAY monetarily and also spreading the message of protecting women…the greatest species ever created," stated  Shane&Shawn.  Not only did they support this worthy cause with funds and their voice.  They tapped into their ingenious side to create an exclusive shoe just for VDAY with their logo.  The shoe was designed, of course, with comfort in a "kitten heel" for women and "classic laceup" for men.  Other types of philanthropy include speaking engagements in schools to "inspire" students to stay on track with their education.  Shane&Shawn believe giving back to the community is the most important thing outside of family and God; "lifting as we climb."
For those who are interested in being great entrepreneurs, take a page or two from the business life lessons of these booming young men.  "Be active on social media, have a unique marketing strategy/story and collaborate with other great brands to expand your consumer base.  Go with your passion.  Get a mentor.  Write a business plan and never, ever quit!"
So there you have it!   Shane&Shawn make it look effortless, but in no way is the fashion industry or being an entrepreneur easy.  It takes flair, jumping hoops and dedication.  While being just under 10 years in business, these two have certainly made a foot print in the sand for many to follow.  As they continue to advance their brand, Shane&Shawn stated that they are expanding their bag collection! AND they are currently having discussions with a denim company.  While there's no rush, I can't wait to see what these two have up their sleeves!
– LSherie
 ___________________________________
CONNECT
Twitter : @ShaneandShawn
Website : www.ShaneandShawn.com
Facebook : https://www.facebook.com/shaneshawnshoes#!/shaneshawnshoes
Pintrest : Shane&Shawn