ABOUT TLSA
Welcome to The LSherie Alert, LLC! July 5 marks 3 Years in business!!!
So what is The LSherie Alert (TLSA)?
The LSherie Alert, LLC started off as a joke.  No…seriously.  For years I've been the "go to girl" for events and venues and whatever else people wanted to know in Jackson, MS.  I'm still not really sure how- I think it may be because I'm always involved in something.  Nine times out of ten…I know about it, because I'm working it.
I started posting on Facebook and Twitter various events, activities, community issues and all kinds of stuff that I found interesting.  Just an FYI to people in case they weren't aware.  I figured this would be an easier way to let people know what's happening without them hunting me down.  Everyone responded well to my postings.  I knew this when I started receiving messages requesting a list of events in the area for the weekend- every weekend.  I looked at those messages and was amazed by the number of inquires.  Who did these people think I was?  Didn't matter, I had already dug a hole, might as well jump.  So as a joke, I continued to post, but out of thin air tagged "The LSherie Alert, LLC" on the end.  Not realizing that I just opened a can of opportunities, people begin asking questions about "The LSherie Alert, LLC ."  They wanted to know what it was about and if there was a site.  And that's when the bulb lit over my head.  My response was, "website coming soon!"  I didn't have a plan for it at all – it was a joke.  But now, I had to do something with it because people noticed.
After that I continued to post positive quotes, free community events and activities in cities all over the U.S.  tagging "The LSherie Alert, LLC " on the end.  I reminded people daily that a website was coming soon although I had no idea how and when.  I had no plan.  But one night I had a dream about interviewing good people- people who were positive influences in their communities and interviewing celebrities outside of my job with Denim Magazine.  It was exciting.  My slogan, "You don't have to be famous to be relevant.  Do something positive" came to me in that same dream.  I had this feeling of "so this is what I'm supposed to do!"  It was a great feeling.  I talked it over with my family and spilled every detail from my dream.  They loved it.
Maybe a few days after the dream I received a call from a college friend I hadn't seen or spoken to in -I know about- 2 years.  He had heard about The LSherie Alert, LLC and very matter-of-factly expressed that I needed a website and he was going to produce it.  I was blown away.  With The LSherie Alert, LLC website in progress, I received support from actresses and actor Melinda Williams, Vanessa Williams and Derrex Brady.  Their encouraging words, along with my family and friends were all the motivation I needed to come up with a plan.  And so I did.
Annoyed by negative press and the constant focus on negative issues, I decided that The LSherie Alert, LLC would be all things positive and supportive.  If the product is good and not harming anyone, why not support it?  Why not talk about it?  I had no idea how this would work, but I figured – why not just include everything I already do.  So with that being said, the site was built to include features or interviews with celebrities and non-celebs on positive things they're doing in their communities and exposure for independent music artist (Indie Music Challenge) and poets (Poetic Whispers).  Because I multitask so well, I love the expression, "killing more than one bird with one stone."  I decided to create a membership that would give more exposure to businesses (big or small) with a complete package.  Advertisement was later added.
The LSherie Alert, LLC launched July 5, 2012, one month before my birthday.  The response of the launch was…well I was speechless.  It was so amazing how many people actually paid attention to what I was doing and had been preaching for the last 2 months.  The amount of "Congrats," and "best wishes," and "Awesome site," and "wow, I'm proud of you," was overwhelming, and still is.
All I want to do with The LSherie Alert, LLC is make a difference.  Be the voice for positive influences and connecting people with each other in support of one another.  Together we're strong…together we're successful.  Goal for The LSherie Alert, LLC  is to push positive people and positive issues to the forefront of our society increasing support and welcoming creativity.
"You don't have to be famous to be relevant.  Do something positive!" – L. Sherie Dean
________________________
ABOUT LSHERIE
LSherie is extraordinary, with her ability of organized multitasking; she has fully engrossed herself in numerous businesses/projects locally and nationally.  She has worked for the Greater Jackson Chamber Partnership since 2007 and is credited for branding the HeartBeats of Jackson healthy heart screening event hosted by Jackson, Mississippi area hospitals.  LSherie is dedicated to her community and uses her marketing, promotion, communication (radio), planning and coordination skills to increase awareness, community involvement and accountability.
Her many projects consist of, but not limited to, Director of Marketing and Promotions for family owned company, DCommunications Group, LLC; Celebrity Journalist for Denim Magazine; Marketing Team for Guapington Enterprise; J. Lee (Production) Team for J. Lee Productions, LLC; and Co-Chair for Mississippi Greek Weekend.
Her multitasking and communication skills have also landed her on the executive committee for the 2011 Leukemia and Lymphoma Society MS/LA Chapter's "Light the Night" event, Booking Manager for Mix Or Die DeeJays, LLC, Coordinator of the Minority Enterprise Development Week Golf Tournament, and Co-Chair of the Capital City Classic and the Urban League of Greater Jackson Mississippi Golf Tournaments.
Known in her community as the "go to girl," LSherie promotes various events, activities, independent artists, poets, photographers, and more. If it's designed to have a positive impact on the community, she promotes it. She gets a kick out of helping others reach their goals. Because of her support of others, she has developed prominent relationships by positioning herself as a vital piece of any puzzle.
LSherie was featured in the 2012 summer issue of BOOM Jackson Magazine as one of Jackson, Mississippi's influential Jacksonians shortly before launching her business, The LSherie Alert, LLC.  The LSherie Alert, LLC   was created to support individuals, companies/businesses, projects, and events that produce positive stimulation for their communities. The alert also highlights creative thinkers, spoken word geniuses and independent artists.  Her motto, "You don't have to be famous to be relevant.  Do something positive!" is reaching all across the globe.
To add to her list of accomplishments, LSherie was featured in the historical Southern Christian Leadership Conference National Organization Magazine in January 2013 as an "Emerging Leader."  Along with her current lists of projects and managing her ever-growing business, LSherie is working as the social media manager for the Medgar & Myrlie Evers Institute's 50th Anniversary events and celebration being held in Washington, D.C. and Jackson, MS in 2013.
__________________________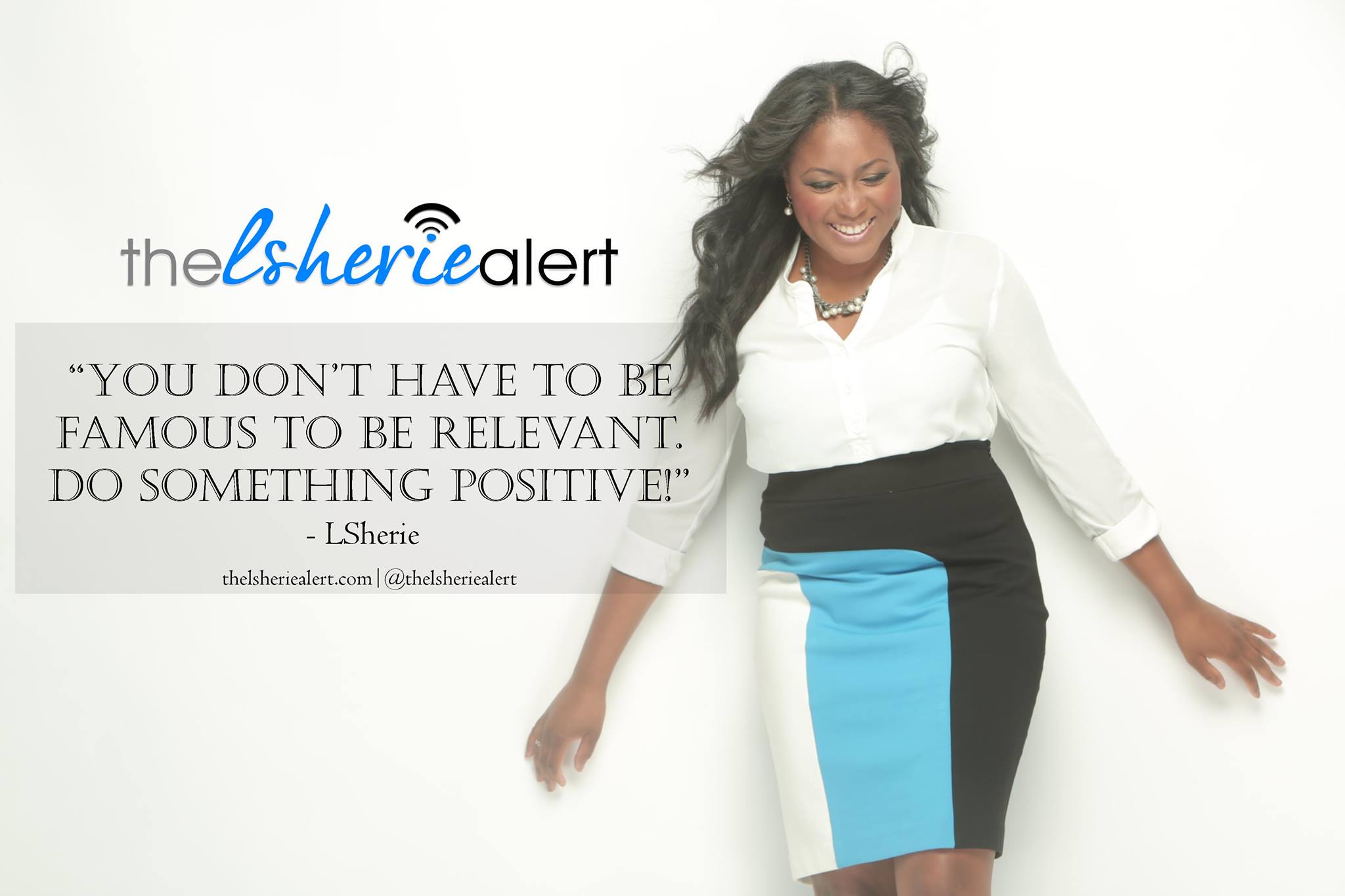 PEOPLE ARE TALKING 
"Love, love, love what you are doing. Best decision I ever made." – Jessica M. Davenport, Function (Jackson, MS)
"It's [theLSHERIEalert] a fantastic site! Great content, good layout…" – Frances Moffett, Eminent PR Group (Chicago, IL)
"It's [theLSHERIEalert] an awesome site! Love the diversity of the content and think it's a great space for entrepreneurs. Congrats!" – Samantha Mitchell, Eminent PR Group (Chicago, IL)
"I love the LSHERIEalert and can't wait to see how large this organization will grow over the years.  I just hope at some point, I'm there to help document the movement through pictures." – AshaRe 'the Artist' Kingston, Model/Photographer (South Beach Miami, FL)
"This is a breath of fresh air. We need more platforms like this. Many blessings and much success to theLSHERIEalert!! I thank you so much!! Peace & Love!!!"  – Rashad Street, Hip Hop Artist/Producer (Jackson, MS)
"I think it's [theLSHERIEalert Indie Music Challenge] dope!!  Great way to give artist exposure!!  Keep doing it!!!" –Sean C. Johnson, Gospel Artist
"I absolutely LOVE your work! You give it your all and it shows! Thanks for being a trailblazer and such an inspiration!" Jola ThePoet Miles, Poet (Chicago, IL)
"I think that the concept of The L.Sherie A!ert brand of support is great. I love that someone cares about what the "little people" say because we have a voice too! I am honored to be featured on the site. Thank you so much for the opportunity." -Aaja Corinne, Fashion Stylist/She's In Color Campaign (Chicago, IL)
"I love what you're doing [theLSHERIEalert], Sherie! I think the world, in general, has gotten caught up in negativity. We just can't seem to break away from the drama and instead of feeding into that, I love that you've taken a stance to actively support people and their passions." -Kellye Smith, Red Clay Photography/Ellye-K Designs (Jackson, MS)
"The LSherieAlert is a great marketing partner! Within one week of my membership, I received new business. It literally pays for itself! I would definitely recommend it to anyone, especially small businesses." – Cecil Cross, Runamuck Design (Jackson, MS)
"LSherie has been helpful in the social networking area of my business. She has consistently promoted my business since the day she was hired. I am very pleased with her hard work and dedication. Thanks so much LSherie and I wish your company all the success you desire and more!" – Ronda Hughey, Hugheys Debits & Credits, LLC (Mason, TN)
"I think we've needed theLSHERIEalert for some time now and didn't even realize it.  I actually plan my week and weekend based on the alerts.  It's important.  I love it and I saw it happening years ago." – Funmi "Queen" Franklin, CEO, Thick And Proud Sisters – TAPS (Jackson, MS)
"I think [theLSHERIEalert] it's good!  It's good to show people in a positive light with so much negativity.  You can look in a magazine, newspaper, internet and everything is negative.  I like what you're doing!" – Ray Edwards, Jr., Atlanta Falcons (Atlanta, GA)
 "The LSherie Alert is a unique place for entrepreneurs to see what other entrepreneurs are doing in their fields. It's a good place to get some inspiration." – Nikki Burnett, Society Art Gallery Owner (Chicago, IL)
"You are so awesome.  I'm blessed by you.  Continue to enrich lives of others.  TLSA is necessary and needed." – Darrin Henson, Actor|Choreographer|Dancer|Philanthropist
CONNECT WITH US
Facebook | The LSherie Alert
Twitter | @TheLSherieAlert
Instagram | @TheLSherieAlert
LinkedIn | LSherie Alert
Pinterest | The LSherie Alert