On Another Level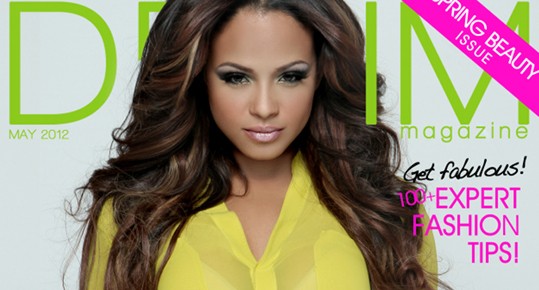 Back in January of 2012 I had the pleasure of traveling to Los Angeles with the DENIM Magazine team to interview a few celebrities for upcoming magazine issues.  While I truly enjoyed meeting everyone, Christina Milian was one of my favorites.
I've been a fan of Chrisitna Milian since her Disney days, so it was an absolute delight to finally meet her in person.  Never knowing what to expect, I was a bit nervous and excited at the same time.  Christina strolled into the studio with her mom/manager wearing a smile to match her sexy fitted white shirt and jeans complete with sneakers.  She greeted every single person in the studio as if she were more excited about the shoot than we were.  That was refreshing.  Following was her mother and manager whom we called "Mama Milian" as she hugged the crew and thanked everyone.
During my interview with the pint-sized diva, Christina candidly talked about her relationship with The Dream, her future goals in the music and film industry, and current projects.  Focused intensely on her music and fattening her film portfolio, Christina talks about her future plans to produce.  Her first priority, however is being a mother to her beautiful daughter Violet.  Christina now glows with growth from the little beauty gracing the Disney Chanel with her wits and charm to a woman who knows exactly what she wants and taking it by storm. – Lsherie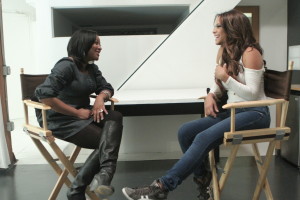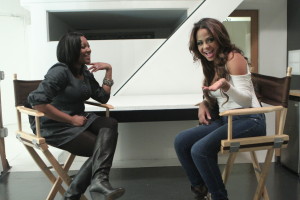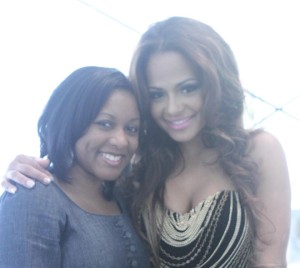 LSherie: How did you get your start in acting?
Christina:  I got started at the age of 7, I begged my parents to get me knot the industry and eventually they helped me.   I went on a billion auditions until I got my first Wendy's commercial.
LSherie: You began acting at such a young age.  Was this a push to make you grow up or mature faster?
Christina: Technically yes.  You have to be professional on set, be quiet, be on time and listen to a director and work with adults.
LSherie:  How do you transition from being a child star to a mature actress?
Christina: There really isn't a transition.  Even as a child you work as an adult and as an adult I still play roles sometimes of a teen.  Not these days- not as much.  I turn down the silly immature roles now.
LSherie: As an actress, model, dancer, singer and songwriter, is there any of these in particular you focus on more?
Christina: Acting, singing and songwriting the most.  They're my passion.  It's what I love….and they pay my bills (LOL).
LSherie: Who is the one person you would love to work with in the music industry and why?
Christina: Prince or Madonna.  They inspired me growing up and I think we could make magic!
LSherie: I know that family is very important to you.  How were you affected by the divorce of your parents and more recently your own?
Christina: It was hard on me because my parents were very close and were married until I was 15; so it was a shock.  I cried a lot, but it made me stronger.  My divorce was very painful.  I was in it FOREVER.  I was truly in love.  It's made me look at life differently.
LSherie: Post-divorce.  How is your relationship with The Dream?
Christina: He and I are cool now.  We have a good repore with each other and are focused on Violet (daughter) living a happy life.
LSherie: Are you currently dating?  Are you looking to re-marry?
Christina: Not into dating.  I don't wanna waste time on someone else to break my heart, take up my time or even deal with another character.  I'm happy being a mom and staying focused.  NO DRAMA!
LSherie: Congratulations on your new role for the 2nd season of The Voice!  What exactly is your role and do you have any expectations?  What can we expect?
Christina: I'm the host of all their web connects.  From Facebook to Twitter to my own personal "Voice" blog.  I've got the exclusive.  I tweet life during the show from @CMilianOfficial.
LSherie: What's happening with your music now?  Anything new or coming out soon?
Christina: Soon.  I've been in the studio working, but negotiating my new deal.  I can't wait to get a fresh start!
Since this interview, Christina signed to Young Money…
LSherie: Great! How are you balancing the many faucets of your career and being a mommy?
Christina: #TeamNoSleep – that's what I live by.  I have a nanny and family to help and I try to bring Violet everywhere I can.
LSherie: What's a day in the life of Christina Milian?
Christina: Wake up, bathe and feed violet.  Answer emails and business questions with my mother.  Work out.  Head to meetings.  Have a glass of wine with my girlfriends.  Head home and continue business and mommy-hood until the day ends.  May even go to the studio – late.
LSherie: When will we see you on the big screen again?
Christina: Soon I hope!  I'd love to write and produce my script.
LSherie: In what ways do you engage in the community?
Chrisitna: As in charity? I'm involved with several organizations including a mentoring program for foster girls.
LSherie: As a model, who is your favorite fashion designer?
Christina: Barbara Bui- fierce, edgy, dark and sexy!
LSherie: What scares you most juggling music and acting?
Christina: Not having time to do both at the same time and being successful at them both.  I don't wanna do a half ass job…ever!
LSherie: What is it like to have your mom (who is awesome) be your manager?
Christina: Great! We work well together.  Over the years, we've worked out the kinks and listen and respect each other.
Christina posted sneak peeks of her swimsuit line on Instagram months ago and as mentioned earlier now signed to Young Money.  The diva is still making moves in the industry.  I'm certain we haven't seen the last of her!
_____________________
CONNECT
Christina Milian
Twitter/Instagram : @CMilianOfficial
_____________________
DENIM Magazine – May 2012 Issue
Editor | JBolin
Creative Director | Chanelle Renee
Photographer | Will Sterling