NFL | Ray Edwards, Jr.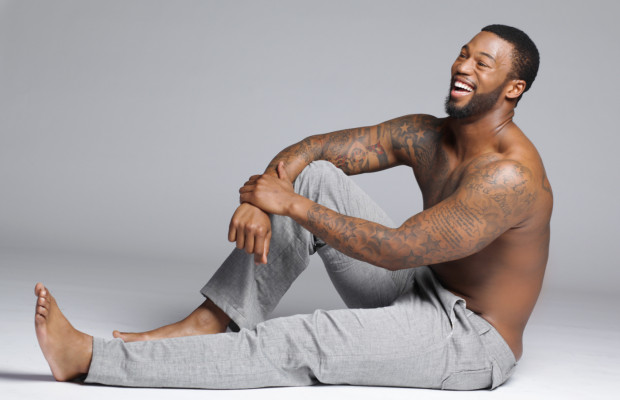 You all know him as the much debated tough defense for the Atlanta Falcons.  Ray Edwards, Jr. proves that he is not only an athlete on the field, but an athlete helping to change the lives of the people in his community. This young NFL player is no dummy and he definitely understands the importance of service and giving back to those who helped him to reach his goals.  With a new season in progress, Ray Edwards, Jr. focuses on strengthening his body to make a huge impact on the season, proving critics wrong, launching a clothing line all while helping others.  Humble.  Hard working.  Disciplined.  This is Ray Edwards, Jr. – L. Sherie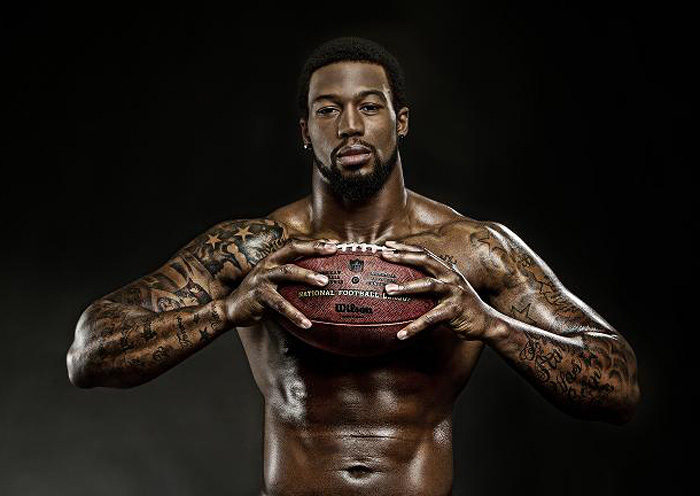 LSHERIE:  Underneath the football helmet and pads, who is Ray Edwards, Jr.?
EDWARDS: I'm just a humble guy.  I love to have fun!  I'm just a hard working guy.
LSHERIE:  Sean A. from Cambellsville, KY asks – Football season is back!  What type of preparation goes into your work week?
EDWARDS:  Training.  I'm training four times a week- sometimes eight with practice.  I'm in and out of games, practicing and massage therapy.
LSHERIE:  Describe the feeling you get being able to do what you love professionally?
EDWARDS:  The feeling is fun! It's not work if you enjoy what you're doing.
LSHERIE:  Chris B. from Jackson, MS wants to know, what is the level of mental toughness needed to handle the life of a NFL player, i.e., job security?
EDWARDS:  As for job security, I make sure that I go to work every day.  No days off! I keep up with my training and just work hard.  That way you won't have to worry about someone taking your spot.
LSHERIE:  Lottery from Chicago, IL asks, who do you feel is the toughest Quarter Back you have to face in your league?
EDWARDS:  I would say my toughest challenge is Cam Newton.  He's good. So yeah, Cam Newton.
LSHERIE:  What obstacles did you face to get where you are now professionally?
EDWARDS:  Sacrifice.  Discipline.  Adversity.  Coming from a background with struggles I had to sacrifice.  I had to be disciplined to keep my focus on my goals and always remember where I came from and to always be humble.
LSHERIE:  Cassius from Jackson, MS wants to know, what will it take for the Atlanta Falcons to earn the championship title this season?
EDWARDS:  For us to win, everyone [team] will have to stay healthy, train and just work hard.
LSHERIE:  Ricoe from Atlanta, GA asks, how do you feel about your injury recovery and how big of an impact will you have on the defense this year?
EDWARDS:  My recovery is going great.  I'm constantly in training and therapy and practice every day.  So I'm good.  As for my impact on the season, I'm making good impact.  My stop defense is good so I think I'm going to be a goof impact this season.
LSHERIE:  Jhai K. from Moss Point, MS wants to know, what do you like about your position on the field and off the field?
EDWARDS:  I love it!  I play the game I love and then off the field I get to share what I love to do with the people in my community.
LSHERIE:  Saeed M. from Jackson, MS asks, what was the biggest adjustment you had to make from Minnesota to Atlanta?
EDWARDS:  Nothing really.  The biggest adjustment for me was finding a house. (laughs)
LSHERIE:  Myron J. from Jackson, MS asks, how important is education in combination with sports?
EDWARDS:  Education is very important.  It goes hand-in-hand with sport and the business of it.  It's easy to be taken advantage of when you don't have education.
LSHERIE:  How did you come up with your athletic apparel, True Ink?
EDWARDS:  I came up with True Ink to push a positive clothing brand for athletes.  Negativity is all around us – I'm not a negative person.
LSHERIE:  What is your vision for True Ink and when will it be available for purchase?
EDWARDS:  My vision for True Ink is to have a clothing line people will respect.  Once we work out a few kinks the line will be available – real soon!
LSHERIE:  Talk about the Halo Project?  What was the motivation behind the creation of this project?
EDWARDS:  My motivation behind the Halo Project is help people.  Helping people who want to be helped is my thing.  Everybody needs support.
(HALO PROJECT – non-profit foundation bloomed from Ray's dedication to sports, and his belief that sports provide focus, direction and confidence for young athletes. The Halo Project is designed to provide financial support to schools and enhance social/athletic development for inner city athletic programs.) – www.rayedwardsjr.com
LSHERIE:  Why is it so important for you to have created the Halo Project?
EDWARDS:  It's important to me because without the people who helped get me to where I am right now, I wouldn't be here.  It takes a village to raise a child.  All of my teachers, mentors, coaches- they've helped raise me and build be into the man I am today.
LSHERIE:  As a result to the launching of the Halo Project, what responses have you received from the children?  Any success stories?
EDWARDS:  The Halo Project just started so I don't really have any success stories other than we provided Christmas in Decator (GA) and worked with basketball schools to keep programs alive.
LSHERIE:  Is this [Halo Project] something you will continue even after football?
EDWARDS:  I'll continue the Halo Project and True Ink.  I have a degree in Criminal Justice, so maybe I'll join the S.W.A.T. team or become a police officer. And I love basketball too, so I'd like to be a basketball coach, plus I'm a professional boxer.
LSHERIE:  What encouraging words do you want to leave with young men not just in your community, but across the country who may want to follow your footsteps?
EDWARDS:  Stay humble.  Be discipline.  Be a hard worker.  I would say those three things are most important to achieve goals.
LSHERIE:  Brian E. from Jackson, MS wants to know, how strongly do you feel about pro athletes as role models?
EDWARDS:  It's a good thing.  Everybody that's an athlete is not a leader.  That's what kids have to recognize.

Learn more about Ray Edwards, Jr. here >> www.rayedwardsjr.com
Follow him on Twitter: @Ray_Edwards
Ray's Public Relations team:
Midori Star Media is a full-service boutique public relations and lifestyle-marketing
agency that specializes in the execution of client-centered publicity campaigns, while
creating benevolence.
Current Clients:
Mike Pouncey- Miami Dolphins
Bryant McKinnie- Baltimore Ravens
Ray Edwards-Atlanta Falcons
Vontae Davis- Miami Dolphins
Justin Miller- Detroit Lions
Erin Henderson-Minnesota Vikings
DJ Dimples
Past Clients:
Trina-Rapper
Pleasure P- R&B Singer
Elease Donovan-Reality Star
Dr. Sherri- Celebrity Psychologist