More Than a Model…I'm a Mogul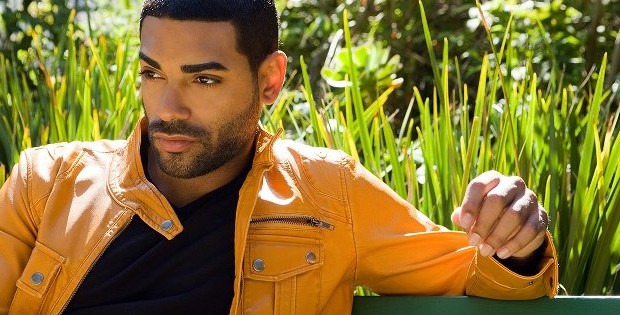 What does it mean to have a stunning body, a face that stops traffic accessorized with intelligence?  Well, let me tell you- it mean's this person has an overwhelming amount of power and influence.  There's nothing sexier than a beautiful man from head to toe with business smarts and a heart of gold.  Maybe I'm crushing, but Chavis Aaron is definitely a hot commodity!
The sizzling model, actor and mogul stays at the front of the fashion scene – and with his personality, it's not hard to see why.  Believe, me there's much more to this man than good looks.  Chavis is a successful entrepreneur with a passion for helping others around him succeed.  Sound familiar? His acting and modeling career has expanded evermore and personally I have become a huge fan.  Brand developing and more… Chavis Aaron knows exactly what it takes to be a powerful, yet positive influence in his L.A. community and across the globe.  Chavis assures that he is more than a model…he is a mogul… – LSherie
_______________________
LSHERIE:  Coming from Indiana, did you ever dream of becoming a model and/or an actor?
CA:  My mom actually got me started.  I've always had a passion.  When I was younger we moved to Atlanta.  I was into sports and broke my femur.  I was in a wheelchair for 7-8 months.  I also was into Hip Hop dancing in Atlanta and even danced in music videos like Ciera's "Oh."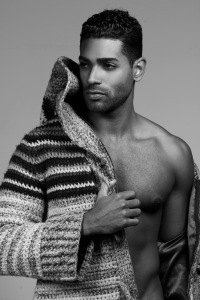 LSHERIE:  Not only are you heavy in modeling and acting you are gifted in brand developing.  Talk a little about this aspect of your career and what makes you so knowledgeable in this area?
CA:  Brand management- everything from look books, logos and getting on the red carpet.   I'm a Virgo, so I am a very analytic person.  Key factors are the P.O.A. (Point of Attraction).  Everybody has a calling; I just believe it's important to give back.
LSHERIE:  How much of an influence have you been or are you within the fashion industry being that you are the rightly deserved Mr. International?
CA:  A lot of it is my fashion.  You have to be super creative.  Be different and stand out.  Remember personality is your styling.  I will be launching ICU, a networking club for fashionitas – stylists, etc. in LA, New York and Miami in 2013.  We will host local fashion shows and more.  The idea is exposing a bigger passion for fashion.  Applications to join will be available.
LSHERIE:  Let's back up for a moment, how did your modeling career begin?  How are you maintaining constant presence?
CA:  In Atlanta, I was asked to be in the ECKO show.  From that show I made a lot of contacts including Elite Models.  I started doing some freelance work.  I was a part of the Sean John campaign in New York and then Rip the Runway.
LSHERIE:  So what is it about your character or skill that allows you to stand out?  How do you keep a high level of respect and integrity?
CA:  It's really important to be a brand – its great being a model.  You have to have a great attitude and be business minded.  There may be an opportunity that comes available, but I may not be able to do it or I'll share it with my friends in the business.  I want to bring everyone up with me.  That's success.
LSHERIE:  Out of the many hats that you wear so well, including your successful business, what are three key elements that have kept you grounded and on top of your game?
CA:  1) Always know that someone is better. 2) Growth.  Do your best is everything.  3) Have a positive outlook.
LSHERIE:  Talk about your entertainment company and how you got started?
CA:  ICU is a niche that's not being touched. So many people are looking for advice in fashion and business.  I appreciate giving my suggestions because it cuts time for others and gives me an opportunity to teach.
LSHERIE:  What challenges have you faced being a business owner and still holding down your acting and modeling?
CA:  Funding.  Marketing.  It's a small company, so getting the word out is more challenging.  However, it's not about the money.  It's about the satisfaction.
LSHERIE:  Is there any freedom or times when you can simply relax?  If so, what do you do to relieve stress?
CA:  I'm usually sitting at home watching movies.  I intertwine business with pleasure.  Any chance I get to have fun and mix work along with it is great.  I'm always looking at how I can help someone.  It's important to use your surroundings as opportunities to improve.
LSHERIE:  We kind of skimmed over the fact that you're a budding actor.  What thrills you most about acting and how far are you willing to go in this industry?
CA:  Modeling us acting without speaking and vice-versa.  When I'm acting I get to take a step out of myself and become someone else.  Whereas modeling I am more acting emotion and feeling without words.
LSHERIE:  With fashion being an integral part of your being where do you believe the trends are heading?
CA:  I would say that fashion trends are going to your basic blacks and tans.  Laces, neon and glow-in-the-dark trends are what's popular now.
LSHERIE: What is your personal – every day – style?
CA:  My style changes with my mood.  I style with personality so I always stand out.  However I'm feeling that moment is how I dress.
LSHERIE:  I read that you recently auditioned for a new show.  Any word from that yet?  If so, can you share… it's just us two talking here.
CA:  (laughs) I haven't heard anything yet, but it's to host a new reality series.  I'll let you know what happens!
LSHERIE:  So what projects are you currently working on and what can we expect from you in the near future?
CA:  I working on my networking applications and I have a couple of things coming out soon – men chap stick (Chp'T) and male accessories (Cha).
LSHERIE:  Being that you are in the public eye, therefore being an influence of some sort, do you ever give back to your community?  If so, in what ways and what has been the result?
CA:  Of course! I work with local clothing drives a lot and do makeovers for people in the bay area.  Like I said, it's very important to give back.
___________________________
CONTACT
Twitter: @ModelChavis
Facebook: http://www.facebook.com/mobileprotection#!/chavis.aaron?fref=ts
Web: www.ChavisAaron.com
PRESS & MEDIA 
Elliot Carlyle
Twitter: @ElliotCarlyle
Email: ElliotCarlyle@vre7.com