Melody and the Vibe Is All I Need
By LSherie on July 31, 2013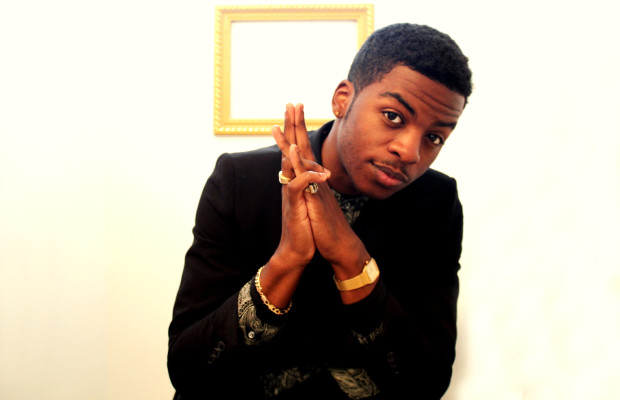 I was introduced to this really cool music artist in his early twenties- by a friend while visiting Chicago a few weeks ago.  So here we are in this little pub somewhere in Chicago and this skinny chocolate-skinned kid strolls in wearing threads that remind me of an early day Pharrell.  I'm not sure if it was the way he greeted me, but it was clearly something special about his demeanor that caught my attention.  My friend had already told me briefly about him and really wanted us to meet.  I am so glad we did.
Fleaux (Flow) Clark is a wiz.  A student of Columbia College in Chicago, IL, he is already making big moves in the music industry as he now works for Sony.  As curious as I am about his future goals and already numerous achievements, I wanted to know what it is about music that pricks his creativity.
The way it sounds, words, and how vibes can provoke feelings and emotions.  Whether you're alone or in an environment with others. There are so many ways music can make you feel in so many different environments.  It amazes me and keeps me in tact when nothing or no one else can.  More about the art form…just the ability to express thoughts and emotion is really what intrigued me most. 
Let's just say I listen to everything but Country music.  I grew up on Soul, Funk, Jazz, and R&B. My father had one Snoop Dogg album and one Kris Kross album.  He was on the Ohio Players, Rick James, Cameo, Lakeside, George Clinton, etc.  My mom listened to people like Jill Scott, Erykah Badu, India Arie, and Boney James. The first CD I ever bought with my own money was Linkin Park's "Hybrid Theory," because my mom wouldn't let me get the Gorillaz album.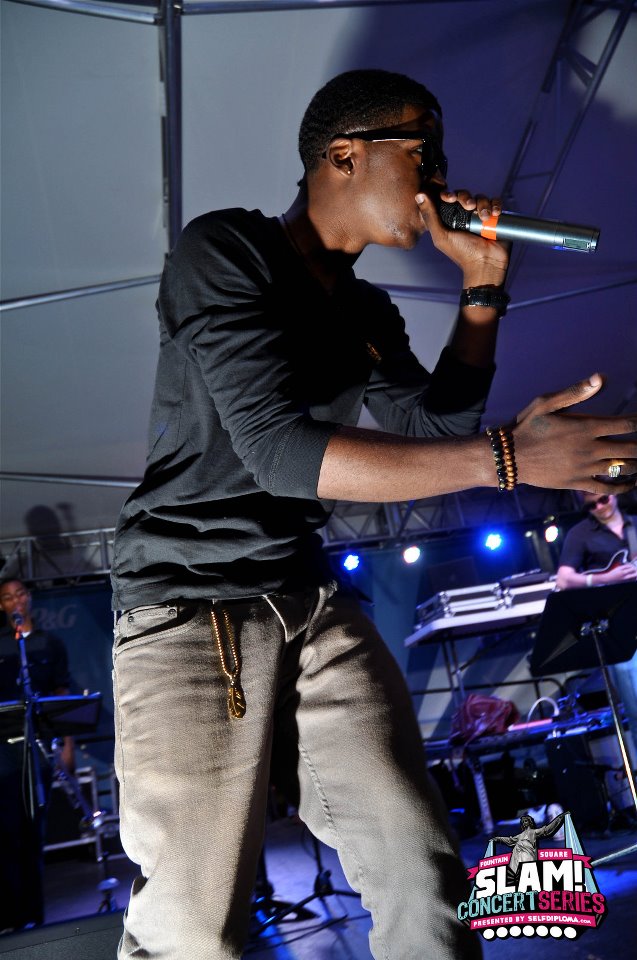 INSPIRATION
Thinking back to the days as a child and being surrounded by nothing but music, it's not hard to see where his passion comes from.  Fleaux's uncle played a huge role in influencing his music as did his parents.  His uncle introduced him to 90s Hip-Hop more so than anything else.  Fleaux felt as though it helped him grow into himself.  So he started creating his own music…
I started actually just looping ends of songs from Erykah Badu, Jill Scott, and Musiq Soulchild.  They always had dope beats to me.  It wasn't until the 8th grade when I met some new neighbors from Pittsburg.  They had an older brother who rapped, I was already -nice as far as editing music goes… so that was the new hobby.  We use to sell our CDs at school, in the bathroom – LOL – nobody was on that back then.  Making my own beats became my vice.
But, he never thought of himself as the one on the stage.  Fleaux, quiet and reserved, seems more like the type to produce a record – behind the scenes kind of guy.  His shyness would never allow him to be in the limelight until…
Around my sophomore year in high school, when one of my songs was chosen as a top ten finalist for the songwriting contest that Essence Magazine was doing when I realized I really had potential to be recognized and appreciated as an artist.
Being afforded the opportunity to showcase his music for Essence Magazine sparked something inside of him no doubt.  Fleaux became increasingly inspired by known and underground artists as he developed his own style and finding his musical identity.   It could be his diverse consciousness of music.  Fleaux isn't the typical new age artist looking to create a "get rich quick"  or "microwave" sound that would have no relevance in years to come.  He is genuinely crafting his music to touch people of all demographics and across the times.  Gotta honor ambition like that.
People like Kweli, Mos Def, Nas, Lupe, Kanye, Common, Dilla, Guru, ATCQ, Flying Lotus, etc. really influence my vibe.  Other than that, I listen to a lot of mellow, instrumental type of music, whether it's Deep House, Chillwave, Reggae, or more on the EDM side. 
My style is definitely mellow and melodic for the most part. I don't necessarily have a blueprint beyond exuding positive energy and trying to connect with people who I feel can challenge my growth.  I wish I had a "big homie" that I could work for/with, but I'm not stressing it.  If I have to figure it all out on my own, I will.  I want to be able to push my homies to grow from within, and continue to bring opportunity and business to one another as we make our way.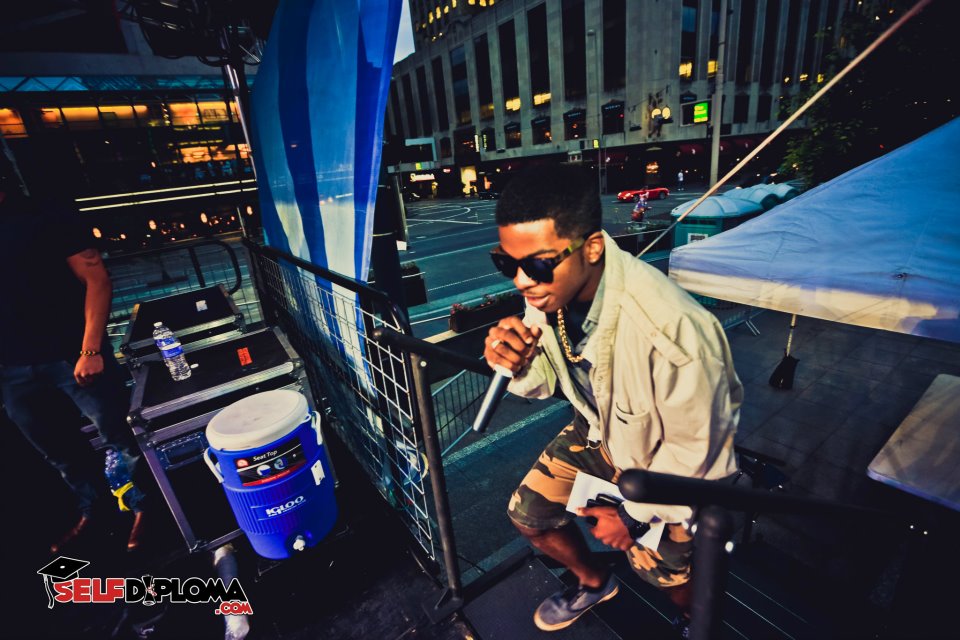 THE BUSINESSMAN AND THE STUDENT
The energy from being selected as top ten for Essence Magazine and the drive to be more than just another artist was real…is real.  Fleaux stepped it up a notch and linked up with friend PRJR birthing the dynamic duo known as NuTheory.  The guys started by helping each other "grow from the ground up."  From there the intensity of producing and writing increased.  Basically they were feeding their craft- learning everything they needed to know about the business, the music, marketing, staying current with programs and everything else.  "It was a perfect balance."  Apparently those skills learned mixed with ambition and pure talent helped him land a job at Sony.
Honestly, when I first got the position at Sony, I didn't want to jeopardize any future opportunities on that end because they thought I was just trying to be a rapper or something.  So I kept things super separate. 
Focused artist and even more serious college student, Fleaux admits to having challenges balancing his work at Sony, his music, and school…
The biggest challenge for me has been managing my time and energy between school, work, and my own artistry.  I take them all very seriously and value them equally…so that can get overwhelming at times.  But all in all, I'm handling them all pretty well and am continuing to grow in each aspect.  I've definitely had to work on patience.  I'm dedicating this whole next school year to situating life after school.  I'm ready to get it going.
Well as far as I can see, he's doing a great job with preparing himself for post college greatness.  Early twenties and leaving impressions on the likes of Sony executives is definitely a great start to "get it going."  As the Urban College & Lifestyle Marketing Rep for Sony, Fleaux establishes and maintains "relationships with local schools, event boards, directors, managers, coordinators and lifestyle accounts."  Putting his marketing skills to use, he also dabbles in "event planning, production and supervision promoting label(s), roster(s) via listening parties, movie screenings, meet and greets, tour recaps," and more.  The man has ridiculous social media marketing – guerilla tactics and that's part of how he was spotted in the first place.
Having such affiliation definitely gives me a little leverage, it confirmed my decision to move to Chicago was a good one.  I see a lot of potential in a job like this.  I've been able to scale the infrastructure of one of the world's largest record labels.  I've been on calls with some of today's biggest stars, gone on promo runs with them, been to CMJ in NYC a few times to see new talent showcases, participated in meetings and mixers with some of the industries shot-callers, all of that.  Of course to them, I'm a small fry…but that's okay, they will know me when they need to.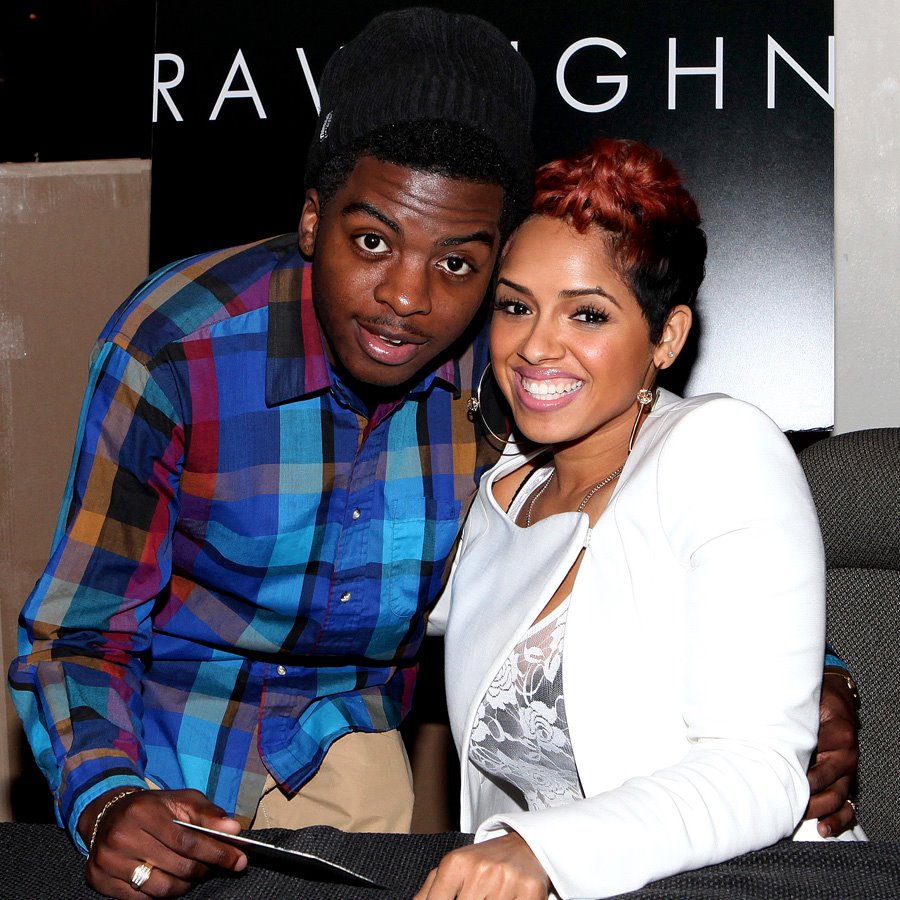 GROWTH
When it comes to confidence, the shy "small fry" has it.  He knows what he's worth and he knows his potential. But like everyone, there is always something you, me, or the next guy can improve for a better quality product.
I think one of my biggest things that I want to improve is having a specific vision and voice.  I want to do things better than I've done them in the past in every aspect.  It's cool to have people say, "Yea you make good music," but at the end of the day, you gotta eat.  I just have to make sure I'm giving them exactly what I want them to have.
Today, Fleaux is working on an instrumental album with partner in crime, PRJR under "NuTheory."  "Some of the tracks I make just aren't for words."  He stated that he does "sporadic collaborations fairly often," but he would love to work with Pharrell, Kweill, Common, Kanye, Flying Lotus, Timbaland and Toro y Moi.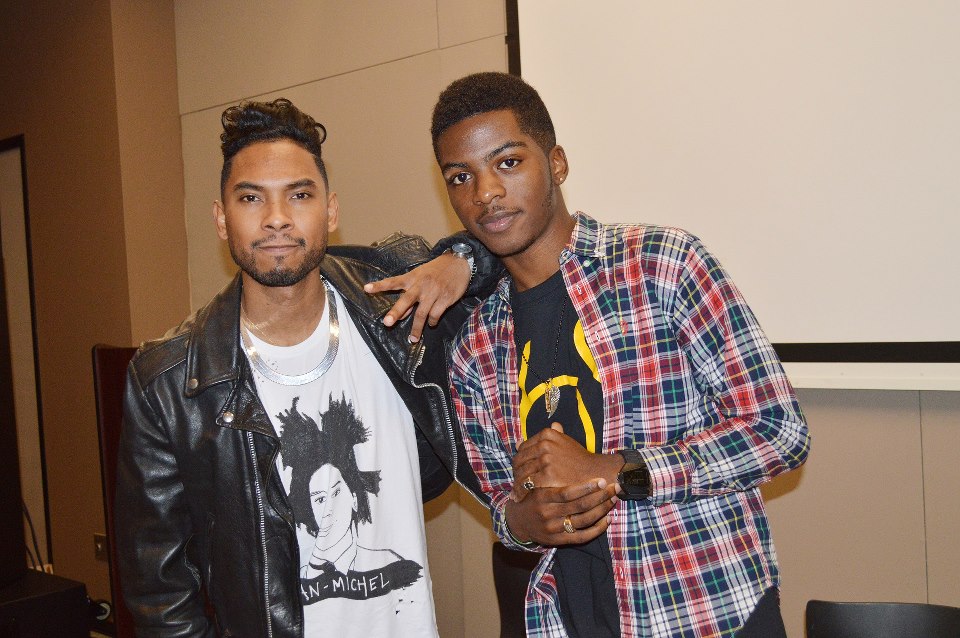 BRANDING
There must be millions of artists in the world competing for the number one spot or just to emerge from underground status, but going about it the wrong way.  Nowadays, everybody's an artist.  Finding the perfect coach or blueprint or guide or what have you can be stressful – it can make or break you. Knowing how to brand yourself and your product effectively helps tremendously.   Fleaux certainly has an advantage. Working at Sony…learning the business from the inside and applying it to his career, there's no stopping this young artist…
I try not to over saturate my presence.  It's easy to tweet or post a status way more than you really need to…but are you really even saying anything? [MESSAGE]  Be aware of the way you present yourself in all aspects.  And word of mouth is EVERYTHING.  Create your own presence.
For producers, selling your beats for $20 to ten different people is cool…but in the end, hold on to your work!  Create a song with an artist or writer you believe you can actually do something with, not just your homies.  Less is more.  You don't have to release every song you make every time you make one.  Put a solid project together, find your voice…you're the spokesperson for your fans.
Learn how/where the money is made!  Publishing, placements, royalties and all that.  Register your works with PRO.  Make sure you have your work contracted in writing and all that.  There's plenty of money to be made, if your work gets noticed you gotta be ready.
That has got to be one of the better bits of advice given for artists.  I hope you guys are paying attention.
Refreshing it is to meet a dynamic young artist -business savvy and driven with a purpose to make music that will touch the lives of every person it reaches.  You can feel his geniality…his passion…in his words, his music and soon like he said before…you will know his name.
I'm working to find a new voice musically. I'm definitely all about uplifting oneself and pushing positivity…but in a mature, realistic manner.
Ladies and gents… Fleaux Clark.
________________________________
________________________________
MUSIC
"Home Run" – http://snd.sc/13GQLTy
"Emotions" – http://youtu.be/65ySeSykWWU
"No Makeup" – http://snd.sc/15R8cUm
CONNECT
Facebook | https://www.facebook.com/FlowClark?fref=ts
Twitter | @Fleauxxx
Instagram | @Fleauxxx
Web | www.fleaux.biz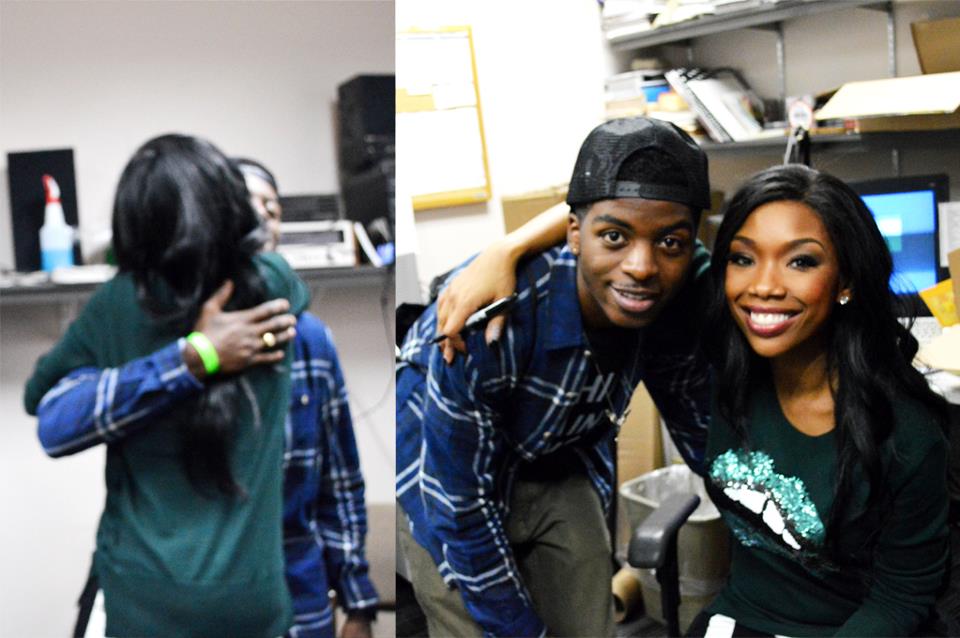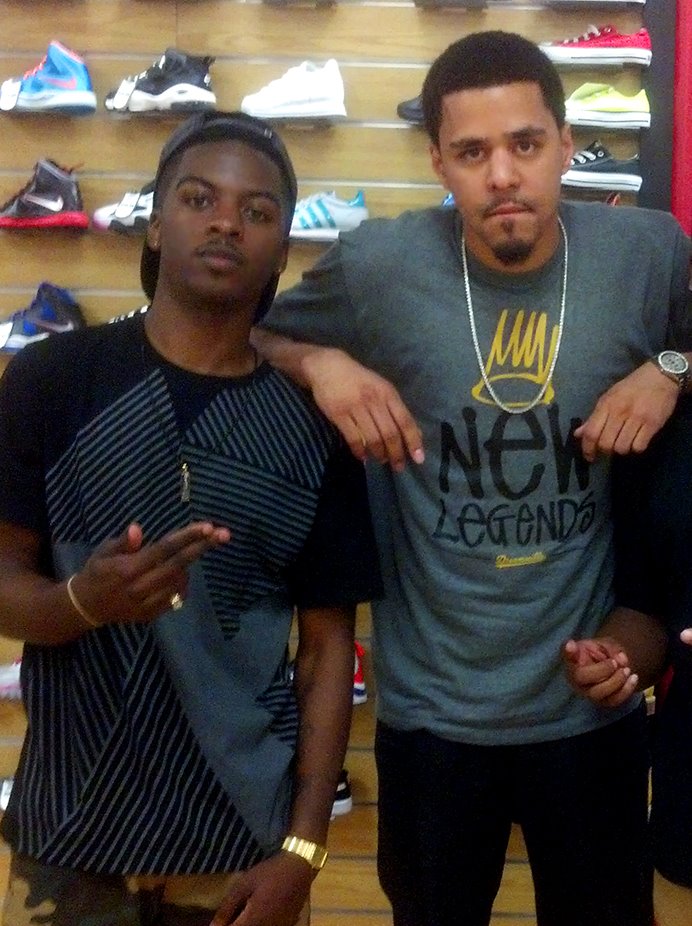 You may also like...
Copyright © 2016 The LSherie Alert, LLC