Learn All…Conquer Everything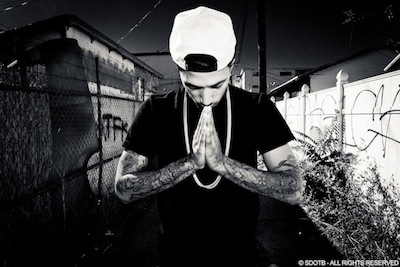 There's nothing more inspiring than a young man willing to rise from adversity and overcome obstacles and setbacks to reach his full potential.  It's absolutely astonishing to hear of somewhat a "grave to glory" story from a man who almost lost everything due to bad decisions, but look at him now.  With a determined grind to push forward and demand the ears of fans and foes alike with his crafty and incomparable music- Young Lace is continuously raising bar.  The L.A. based rapper, songwriter, producer and engineer not only is proving that he is the dopest in the music industry, but laying the blueprint for others to follow.  Not only is he working with Hip Hop giants,  he's declaring his presence in the music industry all while working each and every day to be a better man… – L. Sherie
LSHERIE:  Did you always have a desire for music?
YL:  Not necessarily.  It was more of me rapping and playing with it before I developed a love for it.
LSHERIE:  Describe your ambition and motivation to pursue music once you were finally released from the system.
YL:  It wasn't at really at the time of my release.  It was actually while I was serving time.  I stayed focused and built relationships that made me stronger.  I actually wrote "Above Average" while I was in there.  I stayed working.
LSHERIE:  I read somewhere where you said after you came from behind the walls you became a "new man."  All of a sudden you come out of nowhere with music videos and mixtapes- tell me about "Fast Life" and "Cruise Control" and how they correlate to each other.
TL:  "Fast Life" was the first mixtape I ever put money behind.  It was my first introduction to music collaborating with Wiz Khalifa.  It was a good chance to do something with my music and it be heard.  "Cruise Control" was actually a project that I finished while in jail.  I wasn't able to do as much as I needed to do for this project, but I worked hard and did what I could.
LSHERIE:  Since the release of your mixtapes and the "Above Average" project with DJ Mustard- what's been the most positive responses you've heard?
YL: "Above Average" was amazing.  I think for not having a budget, it did well. It was the simple stuff that let me know people enjoyed my music like autographs in airports, people asking to take pictures with me and telling me how much they like- collectively that allowed me to stay hungry.
LSHERIE: How would you compare your style and originality to other producers/artists in the industry?
YL:  I'm definitely not a carbon copy.
LSHERIE:  DJ Kels of Chicago asks, "Is your style, lyrics and sound similar to that of current Cali rappers like Kendrick Lamar, Whiz or Tyga?
YL:  I have my own sound.  My sound is one that you will not be able to compare others to.  Not going to get that!
LSHERIE:  Do you every have anxiety working with big names such as – my favorite- T.I., Akon and Roscoe Dash to name a few?  How was your experience working with them?
YL: When I work with people I just focus on the moment and getting inspiration from those I'm working with.
LSHERIE:  What is the best advice you've received from another successful artist/producer?
YL:  The best advice I've received is from a homie that told me not to be in a rush, learn your craft and don't waste your money.  Don't take short cuts and be in a rush to succeed.  It will come.
LSHERIE:  What is so special about your engineering that set you apart from other producers at such a young age?
YL:  I do engineer my own music – my sound and mix is completely different.  You get a certain kind of vibe from my crew that you get no where else.
LSHERIE:  With already an amazing amount of support, talent and motivation, where do you see your career heading?
YL:  Keep it moving forward.  I'm working to become a better person every day.  Music will take me places so I'm creating good music for people.
LSHERIE:  So how did you stumble into the fashion industry?  What exactly is your role in the fashion community?
YL:  Well I'm working on my own line right now – t-shirts.  There are some companies developing the merchandize and brand.  It's taking time and we're looking at naming it Wave Race – but not an exact name just yet.
LSHERIE:  After all you've been through what do you feel has humbled you the most?
YL:  Family, my peers – anyone with a good head on their shoulders.
LSHERIE:  How are you using your talent as a positive motivator for your as well as your peers?
YL:  Trying to stay inspired.  Stay hungry for what I love – music.
LSHERIE:  What is your advice to young artists/producers with dreams of leaving an imprint in the music industry?
YL:   Man LSherie… learn your craft! Do things on your own- trial and error.  Learn the business and how to cut spending.
LSHERIE:  Stepping from behind the music, who is Young Lace?  And Lottery from Chicago wants to know where did your name derive from?
YL:  Well actually, Lace stands for "Learn all Conquer Everything."  It's what I've had to do.
LSHERIE:  Why do you push so hard?  What is the legacy you're working so hard for?
YL: I don't have any other choice, but to push.  I enjoy it!
The LSherie Alert is great! Congrats on that! It's giving people a chance to tell their story.  As soon as I heard about it I was oh yeah…I want be a part of that!  – Young Lace
CONNECT
Twitter: @LaceOfficial
YouTube: http://youtube.com/younglace88
 NEW MUSIC
mixtape – Bipolar on www.mixtapes.com