His Powerful Voice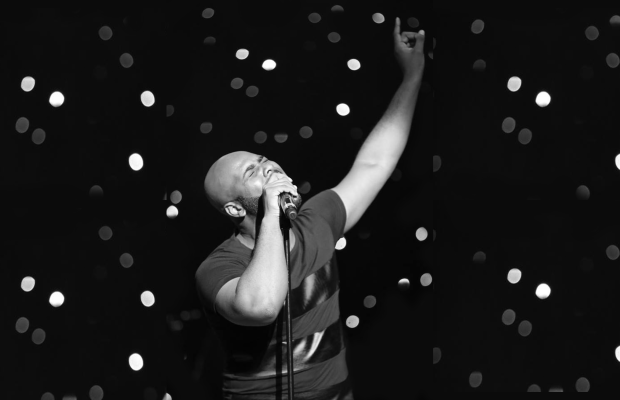 Larry D. Johnson
HIS POWERFUL VOICE
– LSherie Dean
With vocals that were surely crafted by the hands of the Heavens, Larry D. Johnson has skyrocketed his way into a life of pursuing and living his divine purpose.  Larry  grew up in Raymond, Mississippi and realized his passion for singing while in Head Start.  Little did he know, that his passion would grow into something bigger than himself.
Now I've witnessed the vibrato, the ridiculously long runs and effortless flow of music rising from his belly out of his mouth and into the hearts all who listened.  If you ever get a chance to meet this humble soul, you would immediately feel the powerful energy that seems to cover him with conviction.  He can't help it! You know how the old people say, "I just can't hold my mule"? Well, that's Larry.  A strong anointed praise is in his heart and he's so full, he can't help, but to share it with the world.  And sharing it he is!
So who is this amazing rising star…this thunderous voice so many are talking about?  He claims to be a "small town guy with big dreams and aspirations of being successful."
Coming from a family of singers, I know good singing and Larry surpasses even that.  His passion became so big that it literally outgrew all that he's ever know.  I'll never forget the night I heard for the millionth time and finally pulled him to the side and said, "Larry, man your voice is powerful! When are you going to stop singing behind people and step out in front.  Your voice is too anointed!"
Now traveling the world, Larry is sharing his gifts as people of many tongues stand witness. But I'll let him tell his story…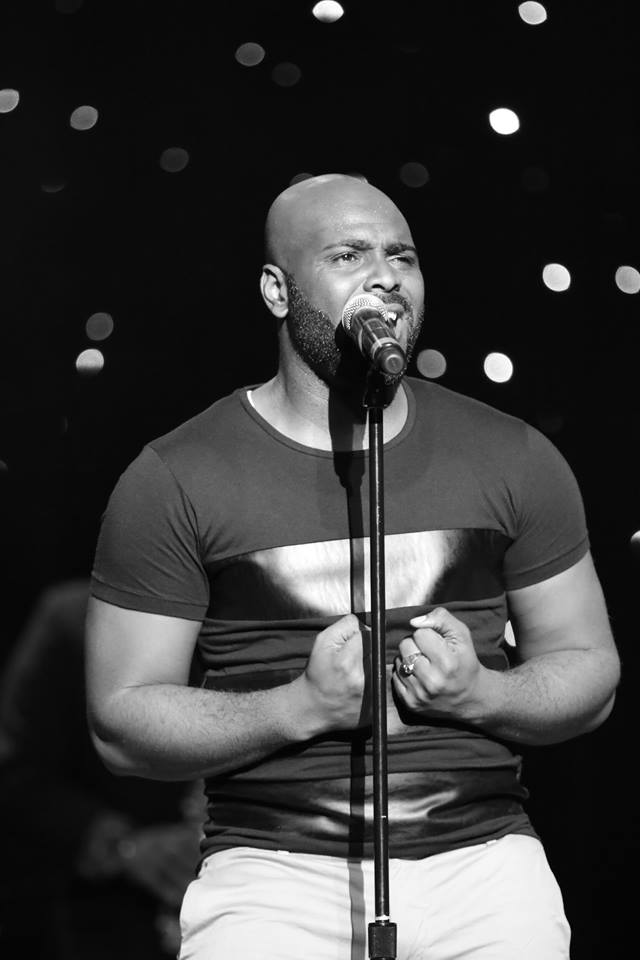 "I've always been adamant about staying true to who I am and making my environment adapt to me. In doing so I've developed a work ethic/ GRIND that is unmeasurable! I represent the artists that are not afraid of change or stepping outside of the box to relay POSITIVE messages through music that will eventually change the mindset of our community, relationships (business/personal), government, and world as a whole!
Music is my peace and in this day in age, PEACE IS EVERYTHING! There a place in music that can provide you with every emotion you desire. However you want to feel at that time, there is a song somewhere in the world that can give you that desired feeling and/or emotion. I've also learned that music is a universal language. It crosses language barriers, beliefs, ethics, and/or geographical differences. Music means the world to me. It allows me to express feelings and emotions that I wouldn't normally verbally express. It gives me a voice!
I will never forget. My very first solo was HEAD START ROW YOUR BOAT ASHORE! I practiced and practiced and practiced. It was only one verse but you would have thought I lead the whole song alone. The preparation process was so funny. I remember inviting everybody I knew at the time so they could hear me sing. Honestly, asked my grandmother take me to get a haircut the night before I sang because I wanted to make sure that line was crisp for that 9am graduation ceremony!  LOL
Other than head start, the next time I sang in front of a crowd was at church. I had mixed emotions. I was excited, nervous, anxious, frighten, confident, encouraged and discouraged at the same time. Needless to say, IT DIDN'T GO TOO WELL. I sounded terrible! My grandmother took me to buy cassette tapes and broke out the old records from the storage room and said, "GO STUDY, it can only get better. Trust me, you will share your gift with the world"! That ignited a fire inside of me that is indescribable! That same fire still burns uncontrollably inside of me. Hopefully it shows through my work ethic and performances daily!
My journey has been very interesting. Of course I started singing in church. I traveled the nation with my grandmother. She was a traveling evangelist. She would travel from state to state preaching and I would always be there to do the solo or assist in anyway possible. YES IM A CHURCH BOY! Lol. I learned so much being on the road with her. Traveling with her exposed me to different styles of music and singing. I've never been one to desire the spotlight when I came to singing. Honestly, at the time, I was more comfortable singing in the background. Because being in the background was comfortable for me, I started singing background for many different local artist such as; Keeshea Pratt, Akami Graham, Tonya Youngblood, Stevie J, Sonja Stamps, Annissa Hampton, Willie Clayton, and the list goes on and on. Thats not including all the religious groups like JSU Interfaith Gospel Choir, Toby Johnson and the Gifts,  and The Anointed Voices, to name a few. I Stayed in the background and took notes. I listened and studied how to/how not to perform effectively. I never had a problem receiving criticism or advice. Not only did I study the music aspect but I paid close attention to how they conducted business.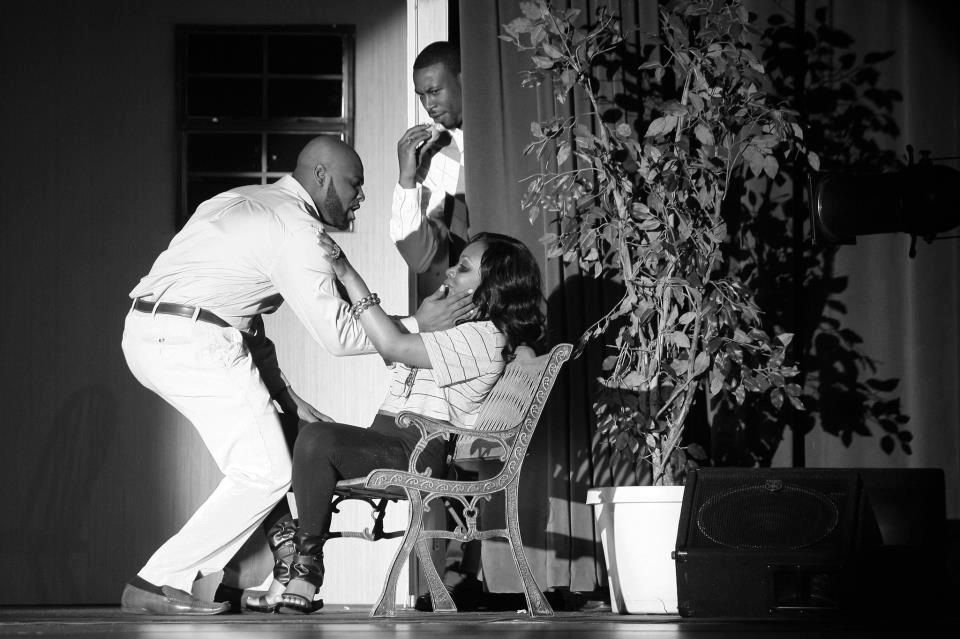 Needless to say, IVE LEANED WHAT AND WHAT NOT TO DO! They were awesome learning experiences. From traveling internationally to singing lead on various projects, including being apart of best choir in the world, THE MISSISSIPPI MASS CHOIR, my journey has been very humbling, eventful, educational, rewarding, and blessed. I look forward to what God has in store for me through music!! I get excited just thinking about it!!!!!
The most valuable lesson learned has been to be humble and educated. Know how to conduct business. It's ok to be skilled and traveled but having a bad attitude and lacking knowledge of basic business sense can be the death of any career. Study your craft and be accessible. Nobody can use someone that's never available or tangible at times! Networking is a must. Being in contact with others that are on the same journey as you is always a good thing. It not only makes your journey easier but it also provides valuable information and in some cases, steady WORKFLOW!"
Yet even through all of this greatness, there's always challenges thrown your way.  Either you roll with the punches or you fall.  Larry consistently show he's stronger and more determined to push through them all…
"The fear of not being good enough was one challenge. It's always added pressure on the person that's out front. It took me some time to build up the confidence to step out and take control of a stage. STILL WORKIN ON THAT! Lol…… Being from a city that has had local artist that's been blazing the scene for years, it was a challenge to prove to different promoters and establishments that I was actually an artist and wanted to be booked for a show. NOBODY BELIEVED ME! Lol…. Also knowing that now, I was being compared to the artists I've sang behind for years was a challenge within itself. I was really worried about loosing friendships and working relationships I've had for quite some time but they have all been very supportive and are now some of my biggest fans! (Their words, not mine)
On the church scene, being out front wasn't bad, but once I joined the MS Mass choir, I knew I was in a different ball park. They could really sing and I grew up listening to that choir. I must say, the challenge was within. I thought I wasn't good enough but they greeted my with open arms and encouraged me to just LET GOD HAVE HIS WAY! The rest is history! My biggest challenge was ME! NOT ANYMORE! I've learned to be my biggest fan! I no longer stand in the way of MYSELF! Sounds crazy but true!
One misconception one can have is that they have MADE IT! lol. Everybody Thinks that when you release an album and it does well, that they have reached the ultimate goal. Soooooo not true! We are living in an ever changing world. It takes hard work to get to the top but trust me it's even harder to stay there. There is so much more to learn and do as an artist than releasing an album. TV makes being an artist look so easy but it's definitely hard work. Just being skilled is not enough anymore! You have to do your homework in every aspect of being an artist. It levels to this. Some people literally have no clue. There are levels of character and maturity that comes with being a successful artists. It's takes hard work, dedication and discipline. BE PREPARED!
When I'm sharing my gift, I hope they are receiving the gift of love and passion to strive for greatness that I possess. Not just any kind of watered down love but the  love that makes you want to love like never before. I want my music/life to touch the lives of millions, heal the sick, mend broken hearts, bring relationships back together, make marriages feel anew, give wisdom, be encouragement, make suicidal thoughts subside, give hope to live another day, remind people that GOD is real and let them know anything can happen as long as you are faithful and true to yourself.
Being able to create an atmosphere that's conducive to people of all walks of life sets me apart. Being at one of my shows, I think, is exciting. There is a variety of supporters there. I'm proud to say that my music is not geared to a specific audience or age group. Everybody has a good time. Everybody from the Mayor, to the judge, to local pastors, DJ's, dancers, promoters, deacons, business owners, students, musicians, teachers, entrepreneurs, fashion stylist, etc, they all come together to have a good time and the common denominator is MUSIC! I also take pride in being able to take this old school classics and modernize them for the younger crowd. ITS FEEL GOOD MUSIC. Nothing makes me feel better than for a 18 year old to come up to me and request an old school song or for a 18 year old and a 60 year old both stand to their feet when they hear the intro to LETS STAY TOGETHER by AL GREEN! I LOVE IT!! Not to mention, I have the best band in the world, BEASTY TUNES!!!
I've had the honor of traveling internationally on several occasions with various groups. Each time has been an awesome experience. In doing so, I've learned that music is universal and it carries the same emotion regardless of the geographical boundaries. Currently I'm here in Europe representing the BB Kings Blues Club on the Nieuw Amsterdam cruise ship for the  Holland America Elite Fleet! This cruise has been absolutely indescribable. I've been away from home since March of this year (2014) and scheduled to return in September. I'm off the coast of Europe in the Mediterranean Sea. I've had the privilege of visiting and performing in countries such as Italy, Greece, Turkey and everything in between. This journey has exposed me totally different level of professionalism, performing, business, music, vocal ability, and importance of rest!  Met some awesome individuals as well!
I never want to be so into myself or my career that forget where I come from or who helped me along the way. Having them look up to me is such an inspiration but it also keeps me in line. I believe if I fall short, they will as well because I'm the example! I'll always strive for success and be grounded at the same time! Everything I have has been given by God and everything I have can also be taken by God! I dnt play games! I'll forever be grateful and honor God in everything I do! Therefore, GROUNDED is where I will forever be! (in that aspect)
I've grown tremendously. Walking through the doors God has opened has taken a lot of discipline and dedication. It had forced me to make life altering decisions quickly. It has given me a sense of direction and made my trust in God grow deeper. My Maturity has been taking to another level in every aspect of myself and the music business. I'm forever grateful for that!"
We all have so much to look forward to with this man! Truly gifted, Larry D. Johnson not only pushes himself for himself, but to create a positive world through music and that's beautiful. Larry stated that in about five years he will be mainstream sharing his gift and love of music. I have no doubt in my mind that this is true…
 ______________________________________________
FOR YOUR LISTENING & VIEWING PLEASURE
CONNECT
Larry D. Johnson, Professional Music Artist
Facebook | https://www.facebook.com/larry.d.johnson.94?fref=ts
Instagram | @VerbalMusic