Hair Boss Philanthropist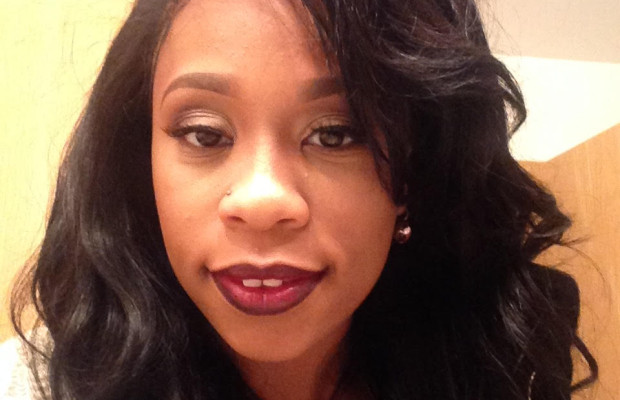 HAIR BOSS PHILANTHROPIST
Entrepreneurship and Community
Chicago grown twenty-six year old, second year law student and vibrant entrepreneur, Shymane Robinson creates community outreach through business.  While you may be fooled by the shyness insinuated in her name, Shymane is far from shying away from being the best mother, wife and business woman she can be.  As the owner of online luxury hair extensions company, Amara Sapphire, Shymane uses her well groomed platform to provide top notch quality hair extensions all while shedding light on community involvement, education and health & wellness.
Amara Sapphire believes in the power of superb customer service and maintaining a consistency in delivering quality products.  How did it all begin?  Well Shymane told me all about her hair extension experience prior to becoming a hair boss and what finally pushed her to make a move on her own.
I love hair extensions.  Everyone who knows me, knows I wear them. I noticed that hair extensions were really really high, I would say for my budget, and then companies would tell me, "Oh you're getting luxury hair."  I would get home and the hair has already shed or the customer service was really really bad.  Customer service is really important to me and I just didn't feel like I was getting that luxury experience that I expected to get for the amount of money I was paying.

I really got frustrated and said, "let me cut out the middle man and find a vendor for myself."  I started doing it myself.  People started asking me about the hair and I realized they had the same issues I had. So I decided to start my own.  Amara Sapphire, named after my daughter, was established in 2013. However, for a period of say 2 years or 1 and half year, I tested the hair through vendors for quality before launching my business- in 2015.
With her company pressing high standards with barely a year under her belt, Shymane has identified a suitable sustaining quality hair vendor that passes her customer service test. Everyone in the Chicago area knows the Amara Sapphire brand and expects luxury.  Yes this is a business, however, Shymane is very adamant about teaching women the importance of taking care of their weave and natural hair.
Weave is good.  We love our hair. We love our weaves, but we've got to take care of our natural hair.  I moisturize my own natural hair, get my ends clipped…everything I do to my weave, I do to my natural hair at least once a month.
Amara Sapphire is the kind of business that understands customers and community. There has certainly been a tremendous surge of black owned hair extension businesses, especially online, but Amara Sapphire stands its own ground.  The length of time dedicated to research and product testing illustrates a deep passion for building a purely transparent business.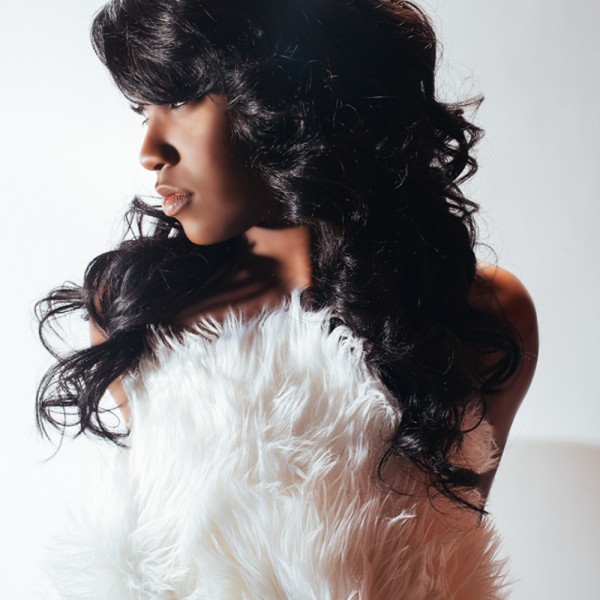 I literally took the time to test the hair for myself over a period of time to make sure that the vendor was consistent with the type of quality our customers need.  In addition to that, Amara Sapphire is really not just about hair, we do invest in hair, but we also invest in the success of our community.  So a lot of other companies rarely return the support to their communities.  We appreciate your support and want you to have that great customer service experience and luxury quality hair, but we also want to be aware of what's going on in our community to support and do our part where we can. 
This warms my heart for a couple of reasons.  1) Here is a young black woman who takes great pride and satisfaction in delivering quality products along with educating her customers. 2) GIVING BACK TO OUR COMMUNITIES is where healing our communities begin. Shymane doesn't just provide a service, she services her community where the media is constantly overshadowing good-feel news like a business giving back to their community for the negative oratory associated with larger cities.  This tells me that it's not just about money.  It's about using what you have to better the people around you.
With that being said, Amara Sapphire recently launched a PROM initiative, Glitz Glamour Prom Giveaway for one lucky couple.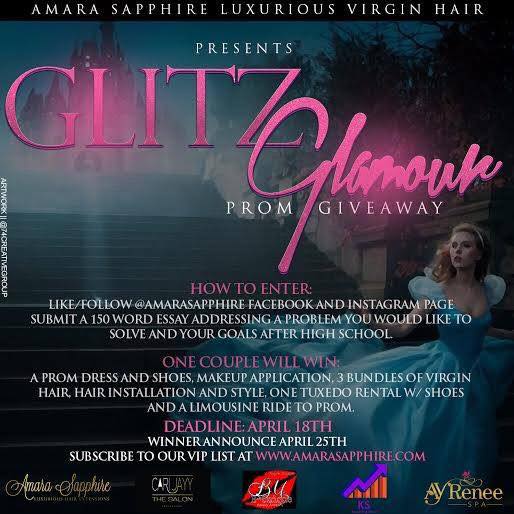 I'm so excited about this! One couple will win a dress and shoes, makeup application, three bundles of our virgin hair, hair installation and styling, a tuxedo rental with shoes, and a limo ride to their prom! Prom is a major event for a lot of young adults passionate about empowering young adults. Especially in Chicago, you do have people who care about you. The cost of prom has like skyrocketed and the parents can't afford it anymore.  I feel this is an event that a lot of people shouldn't miss. I'm really looking forward to it and the sponsors on board are really happy to send them away to prom and have a night to remember. 

My passion for doing this comes from growing up in Chicago. I've seen it first-hand, people going without, not having access to things; people feeling like no one cared. So as I started getting older, I started mentoring at a high school here in Chicago and I'm working with them and some of their problems is like… wait the things that I have access to, I'm very grateful that my mom was able to provide these things. But there are other families who really do not have these things. I think, to be honest, we have a responsibility as a community to help – it takes a whole community for it to be strong and progress. My giving back to the community is really just "let's walk the walk and do our part." It may be small to some people, but it's going to make someone else happy…someone's night to remember.  This is my way to show my support and give back to the community.
So today is the day the winning couple will be announced. It's cool things like this that really make an impact on communities, especially our youth. Amara Sapphire is just one example of the thousands of other businesses out there who may not be huge names across the nation, yet are vital engines to their communities. Just imagine if all businesses understood the value in community and really put forth a visible effort to make significant change in the positive, just imagine how much growth would occur.  How many of our youth would stay in school? How many people would be taken off the streets in the jobs and homes becoming vibrant citizens? Unfortunately there are always challenges.
There have been a lot of challenges. For this region here in Chicago, all you see in the news is something negative. No one cares about our schools.  We don't have the best teachers. So when you first tell them that you're going to pay all of their prom expenses they're like in disbelief.  The push back is almost immediate. "Like really?  Are you really doing that? Is this like a scam?"  Just letting people know it's real. 
Now remember I mentioned earlier that Shymane is a mother, wife and into her second year of law school. You can imagine how busy she is and how well she must be oiled to juggle such important roles while making her dreams come true. Her claim to being successful is of course a supportive husband, but also networking.  In business you have to take the good with the bad.  Shymane understands the importance of accepting feedback from her customers to keep her brand at the highest of quality levels.
I'm listening to my customers. If there is something that needs to be changed or implemented, if there's something they don't like, you need to address it. I plan. I write everything down. I keep a schedule at the beginning of the week and devote this amount of time to school, work, being a mommy and a wife.  I cut the parties to be successful. I have a great support system. 
Since the launch of Amara Sapphire, Shymane admits to growth and being able to acknowledge when people are genuine in regards to her business.
I have a strength that I didn't know I had. I didn't realize how inspiring I was to a lot of people. I thought, oh everybody is doing this. This is normal.  So once I started realizing that there were people watching me, you know, they are inspired by you, they look up to you… I had to learn that it's okay if you can't do everything. I tried to do so much and give so much. Dealing with shade… something I didn't really have to deal with prior to having a business.  People are doing to be unrealistic.  I had to not let it affect me or my business. 
There is definitely a certain level of respect for those who sacrifice so much of themselves to devote towards the success and growth of their business while uplifting their own community.  That's what being a boss is all about. I absolutely love the fact that Shymane isn't afraid to step out and make things happen for her, her family and community.  I'm not talking about the prom initiative, I'm talking about so many other initiatives or even the behind-the-doors efforts to support and give back through her business. This is what it means to be a boss.  You know success when you can give back to those who helped push you forward.
Support Amara Sapphire, a newly thriving business. Support the drive and ambition of this young woman and follow her lead by expressing your creativity to uplift your community through your own platform.
LSherie

The LSherie Alert extends special thanks to Midori Star Media Group.