Buying APPLE Stock
By LSherie on June 23, 2014
MONEY MONDAYS
The LSherie Alert, LLC welcomes you to another edition of  Money Mondays, a financial wellness conversation to help build your financial wealth with financial guru, Andrell D. Harris.  Money Mondays was created to share financial wisdom, tips, and other suggestions for you to follow.  Andrell is an accomplished businessman, investor, philanthropist and lover of Jackson State University. Why are we doing this?  Why not?  Millions of people including myself are looking for ways to increase our finances, learn the tricks of the trade, become active in stock and investments and so much more.  The purpose of  learning is sharing what's been learned to help others.
__________________________________________________
INVESTING IN STOCK 101 – Part III
"Should You Buy Apple Stock?"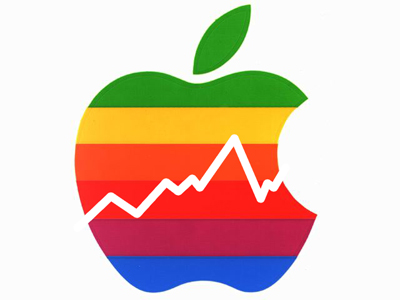 Apple's stock is up about 20% in the past three months, within the last year the stock is up 55%.  Apple currently pays a 2% dividend, this means that you get a quarterly disbursement of money from Apple which equals 2% or $1.88 per share yearly.  The stock ticker for Apple is AAPL.  You can use this ticker symbol to view information about the stock on any stock website online.  Ticker is another term for symbol.  If you invested $10,000 in AAPL your yearly dividend would be 2% which is $200 dollars a year.  You would make additional money while the stock goes up, and lose money if the stock goes down.
AAPL currently has 132 Billion Dollars in cash and assets on its Balance Sheet.  AAPL's current Market Capitalization is 548 Billion Dollars.  The Market Capitalization of a company is the value that the company is currently trading at as a whole, so if you wanted to buy the entire company that is the value that the stock market has placed on AAPL as a company.
On Monday, June 2nd AAPL's stock split.  AAPL's board of directors approved a 7 for 1 split.  This means that June 2nd AAPL's stock went from $646 a share to $92 a share.  This simply means that for every share of AAPL stock that you had at $646, now you have 7 more shares that were given to you at $92 per share. Stock splits increase the amount of outstanding shares and their main objective is to entice investors to buy the stock who thought the stock was too expensive at $646 a share.  Stock splits are psychological plays that companies use to make you think a stock is cheaper at $92 than at $646.  The reality is that the company is still trading at its same multiples, which are used to determine the value of a stock.  Now that the stock is $92 a share more investors look at AAPL stock as being affordable, much more affordable than at $646 a share.
Should you BUY APPLE?
In my opinion AAPL has a chance to dominate the smart phone market in China, especially with the release of the iPhone 5C.  The iPhone 5C is more affordable for Chinese consumers who are AAPL followers and bring a phenomenal amount of company loyalty to the brand.  iPhones and iPads are manufactured in China so the higher the sales in China the less shipping cost and tariffs payed to get the product to customers in the US.  AAPL is currently working on a few products and I don't expect the iPhone 6 to be anything short of stellar.  The newly incorporated iPhone 5S and 5C brands were good strategies because this opened the iPhone to consumers, US and abroad, who did not want to pay a premium price for a smart phone.
I think that AAPL is going much higher and I want to be in the stock to make money off of it as it accelerates growth with its current strategy.  It is awesome that I get paid a 2% dividend as I wait for the stock to take off.  Lets talk Acquisitions, Beats was AAPL's latest acquisition.  A lot of analyst came out negative on this acquisition.  AAPL paid 3 Billion for Beats by Dre.  I think this was a brilliant move because AAPL will incorporate the Beats platform into the iPhone.  Both AAPL and Beats have a cult type of following in the US, this will drive AAPL's profit higher!  AAPL will also make money off of Beats current car, computer, and others licensing deals.  Beats cost $14 to make, and the company sells the popular headphones for a whopping average of approximately $300 a pair, that is a 2,042% return!!!  Don't be surprised if in the near future you see package deals for the iPhone and Beats headphones.
Apple has done well for me throughout the years since I first bought the stock in 2011.  When I sold my original shares my AAPL investment was my most successful stock investment even to today.  I netted over $80,000 off the stock when I sold it originally. My reasoning for continuing to buy AAPL is because of their growth in China and their pipeline of products they are set to release in the US.  I don't plan on selling this stock for the next three to five years, so this is a short term investment for me.  Additionally, AAPL is buying its own shares.  AAPL has expanded its buyback and dividend plan to $130 Billion dollars.  In my opinion AAPL will sell substantially more phones in China by 2016 which will push profit and margins higher.  If AAPL trades lower I am buying more.  This is what we refer to as doubling down on an investment, so the stock has to climb half the amount higher in order to break profitability within an investment.  Conduct your own research on AAPL to see if the company is the right investment for you.
You should always do your own due diligence before buying a stock.  Never buy a stock solely off the recommendation of an article.
Financially Yours,
Andrell D. Harris    
__________________________________________________
Money Mondays will be RIGHT HERE every Monday on www.TheLSherieAlert.com
TOPIC #8| MORE STOCK TALK
__________________________________________________
WORD ON THE STREET
 Andrell D. Harris is a successful financial planner, living in the big city, but still mindful of his Jackson home. A JSU superstar, Andrell has started a Money Monday series. All are welcome. Click the graphic for details. Way to go Andrell. Unknown the Jackson State Tigers are proud. – Jeff Good
Follow Andrell D. Harris for financial tips that will get you where you need to be. Real world. Real talk. Don't miss out. – Yolanda Owens
Jackson, come and Get your financial literacy game up with this young man that has been making waves with his investment strategies and philanthropy…. – CJ Lawrence, Esq.
In today's economy, it's important that we learn how to not only save money, but also how to invest and make money! I don't trust too many people when it comes to the little money that I have for now, but there is one person I do and that's my former classmate and college roommate Andrell Harris. Andrell has been a successful business owner since he was a teenager and has since become an even greater business man. Following him and getting sound advice in regards to things such as investing, saving, purchasing, etc would be a VERY wise move for you and your family! – Jay Jeraude
__________________________________________________
CONNECT WITH ANDRELL
LIKE The LSherie Alert | https://www.facebook.com/TheLSherieAlert
Twitter/IG | @TheLSherie
Submit All Questions | InvestOurDollars@gmail.com

You may also like...
Copyright © 2016 The LSherie Alert, LLC