Blue Kimble | True Talent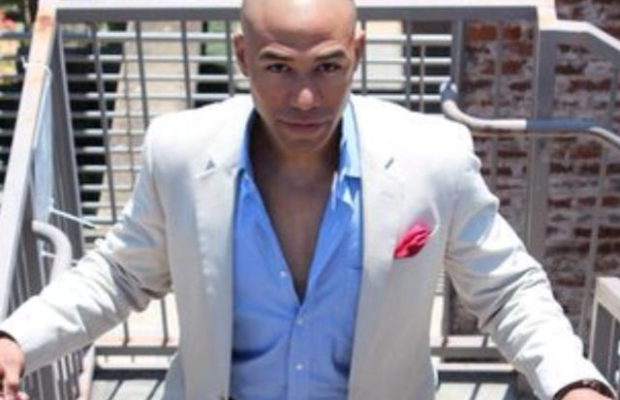 It's amazing how life just happens.  Unexpected victories, grand achievements, doors flying open left and right and dreams becoming reality- I believe it's His way of directing our path.  I guess you can say that's exactly what happened to actor Blue Kimble.  Call it destiny, divine intervention or fate – whatever you want to call it – Blue stumbled into his purpose as an actor- totally unexpected.  By-the-way, Blue is actually his name.  He laughed as he joked about Jay-Z and Beyonce stealing the name for their baby girl.  But honestly, getting to know this man has been wonderful.  You can feel the humbleness and gratefulness in his newly found profession.  Attractive, yes…but his strong faith alone is enough to make you want to dig for more.  So I did.  Although his name may not ring a bell just yet, trust and believe it will very soon!
Blue Kimble is first and foremost a lover of the arts.  He will admit that he is not at all a singer, but loves music and how it makes you feel.  He told me he's always open to any form of art and culture.  He also stated that he puts an effort into reinventing himself- something I find to be very valuable in growing in any profession.
I am always trying to push the envelope, whether it's my acting, fashion or working out…
I have only been acting for about 2 years.  This was never planned; I believe it was God's grace for me to do this.  I didn't go to acting school or train to do this and now this is my life!  I am blessed to be able to use my God given talents to add to the industry and hopefully make a positive impact.
Native Georgian, Blue Kimble started out as a professional football player, but as fate would have it, he would end up acting after agreeing to give a ride to a friend to acting class.  That's when everything changed.  Acting, being a totally different arena from playing sports exposed him to a hidden talent.
Navanya Rhodes encouraged me.  She was the first person who told me I should get into acting.  Navanya is the acting coach who accidently came into my life when I gave my friend a ride to her acting class…and the rest is history!
I don't think anyone was as shocked as he was to realize he has a true niche for acting.  Once he dove off into it, the feeling of comfort and yes this is where I'm supposed to be feeling overcame him.  That's the best feeling in the world.  When you know you're doing something that has meaning not only for your life, but has the potential to positively influence another.  How sweet it is.  So yeah, Blue was and still is excited about his newest venture and the possibilities created from simply doing something he enjoys.  Not only does this man have the physique of a model and a sultry voice, his background in athletics plays a role in him landing some pretty cool acting gigs.
I am very natural.  Acting comes natural to me.  I have a unique voice or sound.  Also my body type [I told y'all], I can do athletic and action roles as well. The thing with acting is that the craft is so dynamic; you are always growing.  You never reach a peak.  You improve, learn and grow from every actor you encounter and every role you play.  I respect and love it so much because you can never say that you are good enough.  Denzel Washington still takes acting classes.  You can never know it all in this business.
Not everything comes as easily though.  As you would image there are challenges to any field no matter the setting. The important thing to know is how to adapt to changes and challenges as they come.  I asked Blue about the challenges he had stepping off the football field to working on a set…
It is a different world and a different lifestyle; it is something that you may not be used to, the lingo, the dos and don'ts.  I was blessed to be around people who helped me learn.  It's definitely an art, and you have to learn and you have to respect it.
Blue increases his knowledge by studying the craft and learning the technique of acting as an art-form.  Like he said, you have to respect it.  His work ethic and ability to latch on to a role as only he can has afforded him the ability to gain momentum as an actor and further expanding his portfolio.
I have been blessed to be a part of some great productions from 'Fast and the Furious 5' to 'Single Ladies' to 'Necessary Roughness' and even 'Hunger Games 2.'  Currently, I am filming on Gabrielle Union's new show called 'Being Mary Jane' which has just premiered on BET.  I am hosting my own music television show, called 'The Music Factory,' premiering this summer, which will be amazing!  God has blessed me with some amazing opportunities.
For only 2 years in the business Blue is certainly making rounds in the industry.  As we talked a bit more about his acting career Blue admitted that he's definitely looking forward to flexing his muscles on the big screen in more action roles.
Actors make the lifestyle seem so effortless and fun, but in reality there are many obstacles, many challenges in an ever-changing industry such as this.  It's always great to have a mentor or a blueprint to follow and Blue credits Denzel Washington, Don Cheadal, Brad Pitt and Will Smith for inspiring and positively influencing him as a serious actor.  With all the knowledge that he's gained in the 2 years he's been in the business, he shares a bit of advice to those who are aspiring actors/actresses…
Don't give up.  Keep practicing.  Keep learning.  As I said earlier, in this industry you will never know it all, so just keep learning.
Acting isn't the only thing Blue's been up to.  He dabbles a little in modeling…as if you couldn't tell.  Blue says modeling is kind of like acting.  He had never done it before, just something he stumbled into.
When I started acting, modeling just came along with it.  I have been blessed to be involved in some great shoots, but acting is my first love.  They just go hand in hand.  I get paid to take my shirt off sometimes…so it isn't bad.  [Oh my…]
Of course there's more to this man that meets the eye.  Blue Kimble has always had a solid family foundation infused with a deep love for God and appreciation for being raised by both is parents.  His infectious smile is quite captivating and may be another reason why he's fairing so well as an actor.  On top of that he's a fan of our youth being adequately educated.  Believe it or not, he was an educator. Nice!
I believe in empowerment of the community and I feel it starts with children at the foundation and the future is our children.  I just want to leave a legacy of good work in film and positive interaction with the community and society.  Let our young black men and women know that they can achieve anything.
And that was a mouthful. If I've said it once, it won't hurt if I say it again…ain't nothing better than a man who cares about our youth and works to inspire and uplift our communities.  I'm sure there's more to come with this young positive actor and I plan to be there in full support.  – LSherie
_______________________
I am proud of you and what you have going on.  I am grateful you wanted to feature me.  You are my extended family now; anything you need just let me know.  The site is DOPE! – Blue Kimble
_______________________
CONNECT
Twitter/Instagram | @BlueKimble