Big Taste at the Ragin' Crab Cafe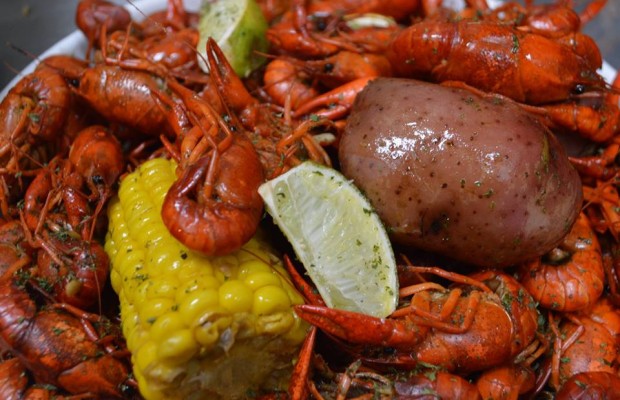 WE EATIN' HERE?
RAGIN' CRAB CAFE
Dallas, TX – 2100 Greenville Ave
My sister knows my hunger for seafood and recommended this awesome seafood joint in the East District of Dallas, TX – Ragin' Crab Cafe.  Recently I had the opportunity to dine there and immediately felt welcomed.
We were given the yummy rundown on what to order and how to order it for the best price.  My stomach ordered a pound of snow crabs, two pounds of craw fish with red potatoes and corn seasoned at a heat factor tolerance of 2.  My stomach paid about $50 for the entire meal that would cost wayyy more without the generous guidance on how to order all these delicious seafood delicacies.  My stomach received its food good and hot and in a reasonable wait time. Oh wait… AND there's a full bar! You can have whatever you like!
I'm big on customer service.  The food can be great, but if the service isn't there… it's likely I won't return.  Well, there was absolutely no shortage of great customer service at Ragin' Crab Café.  The service was magnificent from the moment I stepped into the restaurant.  From the manager, Hassan Ali, to the chef… oh and hats off to the CHEF, everyone was so accommodating!
If you're a professional eater like me, you enjoy dining in a clean restaurant.  With all that awesome extra sauce they provide with your meal, you would think it would be a bit messy, but nope.  The café was clean, didn't smell fishy and the soda machine worked like a charm.  There's even an awesome hand washer thingy to clean your hands before you leave!
Eating good is great while exploring different areas of the city and it's only a few minutes from downtown Dallas.  The East District reminded me of a vibrant artsy community. Whether dinning inside or outside, the aura of good people, great food and awesome customer service made the location the icing on the cake.
So if you're wondering… the food was FIVE FINGER LICKIN' GOOD in all categories: Food, Service, Cleanliness, Price, and Location!
Click below for the review video featuring Facebook and Instagram Strategist, Ignacio Zambrano II and Ragin' Crab Cafe Manger, Hassan Ali.  Check out this awesome restaurant! We loved it… I'm sure you will too.