Annie Funn

LSherie chats with the beautiful LA celebrity stylist, Annie Funn….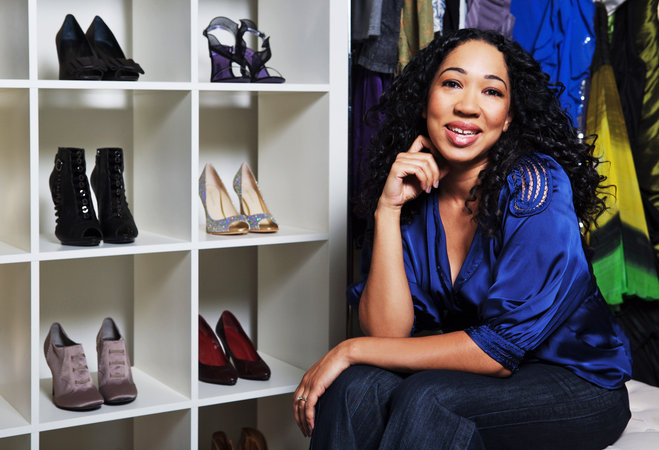 LSHERIE:  Who are your blueprints for fashion?  In other words, is there a stylist out there whom you want to pattern your career?
AF:  I definetly look up to Emmanuelle Alt.  She has such an amazing laid back, easy vibe.  She is the coolest, she has great personal style and has styled some of the most beautiful campaigns and Vogue pages.  I feel honored to have worked under her.
LSHERIE:  Out of all the people you've styled, who was your most memorable and why?
AF: One of my all time favorite styling experiences has to have been as a young assistant to Emmanuelle on a Gucci campaign.  I spent an entire day steaming the whole Spring collection organizing pieces, accessories, and shoes.  I was in awe of all of the fabulous designs, not even available in stores yet, but right here with me. I just about lost my mind when I returned to the hotel after the shoot and plopped down on my bed.
LSHERIE:  What is your signature look?
AF: My signature look is clean, sexy, and color aware.  I've been called a "color genius."  I never thought of myself that way, but when people come to me one of the first things they say is we love your use of color.  I still can't quite describe all my styling, I just use and put together what I feel is beautiful.
LSHERIE:  How did you get your first break into the industry?  Who was your first celebrity client and how did they hear about you?
AF: The first celebrity I styled was an actor/ comedian… I got the job through a photographer.  I remember he was goofing off during the shoot, spinning around in a chair and somehow cut his finger and bled all over the neck tie!
LSHERIE:  What fascinates you about fashion?
AF:  Fashion fascinates me because I love beauty and the art of it.  I'm such a people watcher… I can sit on Sunset drinking an Obama shake and just watch people pass by, and just be fascinated and what they're wearing and how they carry themselves in it.
LSHERIE:  Do you play it safe with your styling or do you have you make your own rules?
AF:  I don't play it safe, but I hate tacky.  I think its important to know what differentiates creative from tacky.  I like clothes that fit properly, that crease where they are suppose to, sleeves that fall to the correct part of the wrist, and suit pant hems to bend just slightly where they are suppose to before ending.  There are rules of fashion… like you should never wear a shirt of dress that wrinkles in tight places, like between the breast.  That means it's too small!
LSHERIE:  What does the 'Annie Funn' brand provide?
AF:  lol "The Annie Funn" brand provides brilliant color, sexy, classic styling, and crazy faces! I make the most ridiculous faces, I would never be a good poker player.
LSHERIE:  What makes your unique styling stand out from others?
AF: My styling is unique because its very clean, yet interesting and intriguing at the same time.  I want my clients to enter a room and for people to whisper, "who is that?"  I want my clients to look like someone that you want to know more about.
LSHERIE:  What are your goals within this industry and how high are you willing to jump?
AF:  My near future goals are to expand my styling workshops.  I currently have a few coming up with Chaffey College this summer and fall.  I hope to later offer workshops in other cities as well.
LSHERIE:  Being a west coast girl, what's the L.A. style for the summer?
AF:  LA is so laid back, with an I'm too cool attitude.  Which is funny because so many of the "LA'ers" are not LA at all.  Most are transplants from other states… but, a maxi dress is a must have this summer in LA.
LSHERIE:  How did you get the feature on Style Network and appearances on Real Housewives of Beverly Hills?!
AF:  Style Network approached me as a style expert to be featured on their blog, as do lots of magazines and blogs.  And, I love doing it!  It is so much fun to give advice and inspire other young girls who are like me to reach their dreams!  I was brought on by the photographer for Kurv Magazine to style Adrienne Maloof, and Bravo filmed the photoshoot.
LSHERIE:  Is there any one person you dream of styling?
AF: I would love to style the next Beyonce, or the next female songstress or rap powerhouse from the ground up.
LSHERIE:  Why did you choose this profession and how have you prepared for success?
AF:  I chose this profession in high school.  At the time I had no idea how to go about it… But, I use to watch all these flashy 90′s music videos, and I thought to myself, I want to dress those people.
The key to success in this industry and nearly most industries is resilence.  Its all about bounce back.  You will be told no, you will probably be screwed over by someone, and someone's definetly going to hurt your feelings.  But, if you stay in it, and you're good at it, you will make it.  Two things that prepared me and continue to prepare me is to think this way: WIFM (what's in it for me) where you step outside yourself and think how is this situation going to benefit everyone else thats involved in the project.  And the second is to not be afraid of failure or the no's.  If you don't try the answer is no everytime.
LSHERIE:  Are you involved in any L.A. community charity events?
AF:  I support Choices Wellbeing, which is a nonprofit organization dedicated to helping women and families with children.
@AnnieFunn