All We Have Is Our VOICE…
OBBIE WEST, The Poet
All We Have Is Our VOICE
Poets are masterful lyricists.  The way they twist and turn words and phrases to have many meanings or to mean everything all at once is simply incredible.  And that's not the best part…the greatest adventure of poetry is turning those words outward so that those listening can imagine, taste and feel the passion.
Demanding attention as he took the mic in front of adoring poetry fans and poets alike unclasping his hands, he stuffs his fists into his pockets and lowers his head as if to channel his inner beast.
He seemed harmless.  But then he looked up.  His lips parted ways from one another.  His voice…boomed.  Like thunder it was as if he had called upon his entire ancestry to deliver such a force of power to birth a mind provoking, heart rattling, soul shaking message.
If no one in that building knew who he was before he took the stage, they knew then.  He is Obbie West.
Born Edward Wilson, Obbie was raised in Los Angeles, California where he left home at the age of 17 in pursuit of his own happiness.   As you can imagine, it didn't happen right away.  He and poetry kind of stumbled upon each other in 2011.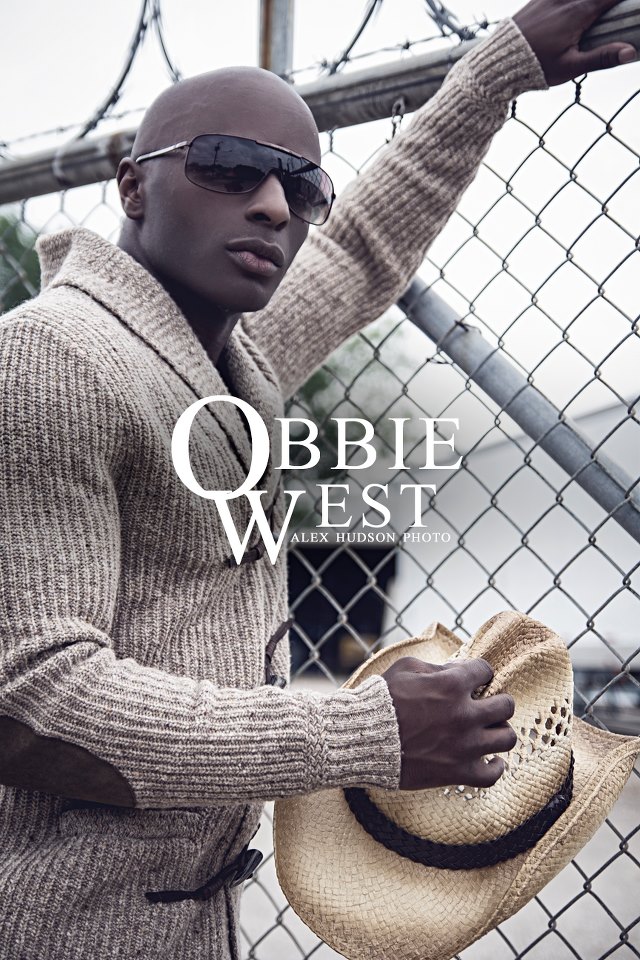 "There was a guy who hosted a comedy show across the street from my house.  He was having comedy and poetry.  I went and watched the boys go on stage and perform.  It was just the freedom to go up there and be able to express themselves…it was powerful. It didn't look out of place. To be able to express yourself with that much passion and emotion on a stage and be accepted…it was amazing. It was freedom.
I've always been a fan of words. I can't rap.  I've tried several times. When I saw those people doing poetry that was my outlet.  I asked the guy how could I do this.  He said to sign my name on the list and to come back next month.  So that's what I did. I wrote two poems and went back next month. 
Poetry is… how can I say this… my way of hiding out in the open.  I'm hiding in front of you, because this could be the truth, but you don't know that it's about me or that I'm telling someone else's story.  I can tell my most ugliest truth about me and you won't know.  Everything that I always wanted to say, I can say and not be judged by it.  It's a one-way conversation.
When I'm on stage, you're pretty much forced to listen to me.  If I'm meant to do anything else, I don't know what that could be.  There's nothing more fulfilling than this.  Anything else that I do is just an experience.  My life is poetry."
There's no feeling like connecting to something that pushes your passion into your purpose.  Hanging off every word, Obbie's intellect keeps you on your toes and just when you think you know what's about to come next, he sling shots you into a whole other direction.  His delivery is liquid. His passion is real.
Many of his pieces are inspired from something he's experienced.
"That night [Synergy Nights – Ridgeland, MS] , I did this poem called Chivalry.  About a young lady that I went to a comedy show with, she basically said everything that I was doing was a tactic, doing it so to make her feel some type of way, so I could potentially do something with her. And that bothered me, because I knew that was genuinely me. I had no intention of doing anything else.  The common mind frame is that chivalry is dead, but the other half of that is it's dead because women are help killing it. Let me feel like a man."
Obbie also performed a poem about women loving and appreciating their own hair…

If he had to place one word on his work it would be honesty.  Straight forward…totally honest.  It's important that there's something we have to accomplish before we can be more established. His focus is completely on poetry and accomplishing his goals.
Sheer confidence is one goal he's accomplished.  It shines through his words simply because it's what he believes in.  When you believe in what you're saying you have no problem pulling people into your dream.
"I want everyone to be under the impression that I'm the best poet that every walked up in here.  Poems are always driven by something. Something other than you giving me a subject and asking me to write about it. Poems come, but they come in pieces. I may start on one in February and then finish it in April.  Every poem I've ever wrote is in my Blackberry.  So writing doesn't happen all at once for me.
Poetry is like breathing for me. To not do it is like holding my breath."
As humble as he is, Obbie still understands the meaning of grinding in excellence. By that I mean, hitting the streets and making himself available to showcase his passion to crowds that will have him.
Obbie's advice to those of you who want to elevate as a poet, don't pull up another poet and study them for long periods of time.  Find your own voice. Be more authentic.
– LSherie
CONNECT WITH OBBIE WEST 
Instagram | @ObbieWest1
YouTube | Obbie West