A Princess With No Bounds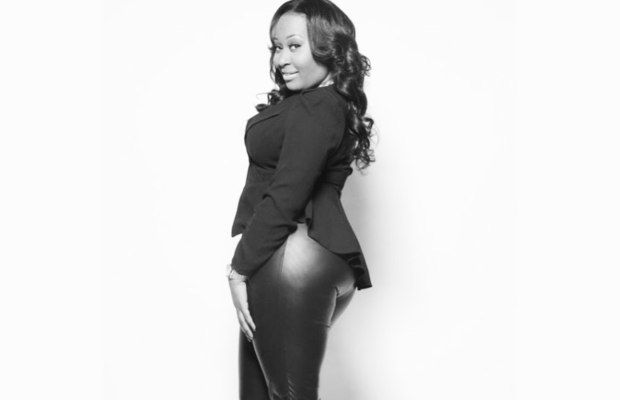 Detriot's HOT 107.5 FM  finest, April Lockett also known as "Absolute Princess" carries her title well.  A princess with no bounds, she's determined to crush her goals and create opportunities for herself as well as others in the music and acting industry.  Something like a threat with a smile, AP has already made a name for herself as a VJ and budding actress. Her social skills and charisma are credited for her success thus far.  I bet you can guess how she got her name…
It was actually a surprise to being that I've always been "AP"  It was given to me my Mentor MC Serch I used to be his co-host on his Show on HOT 107.5 called "SerchLite Saturdays"  while on air one night we were discussing a topic on dating and taking callers and out of nowhere Serch says let's ask "AP The Absolute Princess" and it just sounded right and I've been rolling with it ever since.
So how did AP get to her throne? Ask her yourself and she'll tell you it's something like a roller coaster.  Turned down for an on-air position three times, AP was persistent in making her talents known.  Soon after she would become Radio Personality/Producer. Naturally, she got the urge to branch out into acting.  No doubt, that same charisma and skill landed her already budding success as an actress.
It's real simple research, research, research…….I've been preparing myself by studying the art of acting I'm working with a great acting coach here in my hometown I've already have been in productions   3 plays, a sitcom ( which I'm now preparing for the second season) , and a movie that came out this past March which is on tour  traveling across the Midwest so I say I'm off to a pretty good start.
Crediting La La Anthony as her source of inspiration, AP stated she believes Anthony to be "the ultimate 'Women of Media' from Radio Personality to TV Host, to acting…"  Her strength in being able to balance all of these areas and still keep home happy is something to applaud.  AP sees this as being able to wear many hats and still be on top. Motivation indeed!
Being a radio personality of course AP has the opportunity to talk to music artists and other celebrities.  She's dished on how those interviews have opened doors for her and heightened her skills as an interviewer…
I would have to say the most inspiring interview to date would have to be Young Jeezy…. Jeezy talked me about coming from absolutely nothing to making a way for yourself and others and remaining humble all at the same time I can relate I can apply that to my everyday life because I came from the westside of Detroit where not to many people make it from and I'm living out my dream and I know one day my story will help somebody live out there's as well. 
My acting that definitely came from people hearing me on the radio and liking my personality I've also had the opportunity of building relationships with other people in the market as well as some of my celeb interviews…
This journey has taught AP a lot including how unfair this industry can be.  No matter how talented or gifted you are, you have to be on top of your game at all times.  No days off!  For AP, producing and acting are definitely two different things.  She has a sense of freedom when acting whereas with producing it's a bit more tedious.
I went from being heard to being seen but definitely a step in the right direction.  I learned not to wear my heart on my sleeve this is a very demanding and not so fair business you have to be able to take rejection because it is a business and never personal.
I'm in the process now of filming the second season of a sitcom I appeared it called "Because We're Men" also I'm in talks of being involved in another movie which will began shooting shortly 
AP's advice to successfully maneuver in this industry is to be sure that this is what you really want, and that you're doing it for the right reasons.  Money alone can't buy you success or happiness.  The road to success is paved with much struggle, let downs, disappointment and failures, so if this is something you can't handle…do go for it.
All what comes to you easy can leave you that same way so always remain humble.
Putting her money where her mouth is, AP uses her talents and success as a way to give back to her community.
I'm actually doing a lot of mentoring with young ladies in the city who want to become " Women In Media" which is going great and it's starting to pick up and build it's own platform I'm hoping to see it blossom into something big in the near future.
We are looking forward to AP's efforts in building the "Women in Media" platform to help share the stories of other great women working and living in their purpose.  Absolute Princess she is, AP is seeing no bounds when it comes to her winning and the ultimate success of her community.
_____________________________
CONNECT WITH ABSOLUTE PRINCESS
HOT 107.5 FM Morning Drive Radio Personality/Producer
Instagram | @FullyBlown_AP
For Bookings | 313.338.9860
Web | www.APReloaded.com